Scooters are an efficient and fun mode of transportation, perfect for zipping through urban traffic or enjoying leisurely rides on weekends. However, like any vehicle, scooters require regular maintenance and occasional repairs to ensure they stay in top shape.
In this article, we'll dive into the world of scooter repair, providing you with a detailed guide on diagnosing common problems, conducting DIY repairs, and finding reliable professionals to handle more complex issues.Whether you're a seasoned scooter enthusiast or a new rider, our insights and expertise will help you keep your ride smooth and trouble-free.
Scooter Repair: Ensuring Reliability and Safety
Whether you're facing a minor hiccup or a major issue with your scooter, knowing how to address and fix the problem is essential for a safe and enjoyable riding experience. In this section, we'll cover some of the most common scooter repair topics and offer practical solutions.
Diagnosing Scooter Starting Issues
Is your scooter having trouble starting? Several factors could be causing this problem. First, check the battery's voltage using a multimeter. If it's below the recommended level, consider recharging or replacing it. Next, inspect the spark plug for signs of wear or fouling. A dirty or damaged spark plug can hinder ignition. Additionally, a clogged fuel filter or carburetor may disrupt fuel flow. Clean or replace these components as needed.
Troubleshooting Engine Performance Problems
If you notice a decrease in your scooter's performance, it's crucial to identify the underlying issue promptly. A common problem lies in the air filter, which can become dirty or clogged, affecting air intake. Regularly cleaning or replacing the air filter can significantly improve engine performance. Furthermore, check for any fuel leaks or vacuum line issues, as they can lead to poor engine performance. Address these problems promptly to avoid further damage.
Brake Maintenance and Adjustment
Properly functioning brakes are vital for your safety on the road. If you notice squeaking or reduced braking power, it's time to inspect your scooter's braking system. Start by checking the brake pads for wear; replace them if they are too thin. Additionally, ensure the brake fluid is at the right level and free from contaminants. Adjust the brake cable tension to ensure a responsive braking experience.
Tires and Wheels: Checking for Wear
Regularly inspecting your scooter's tires and wheels can prevent potential accidents and improve overall performance. Check the tire pressure regularly and maintain it within the recommended range. Look for signs of tread wear or damage, and replace the tires if necessary. Similarly, inspect the wheels for any cracks or bends that may affect handling.
Addressing Electrical Issues
Electrical problems can be frustrating, but they're manageable with the right approach. Start by checking the fuses and wiring for any signs of damage. Make sure all connections are secure and free from corrosion. If your scooter has lighting issues, examine the bulbs and replace any faulty ones. In some cases, the problem may be with the electrical switches; clean or replace them if needed.
Preventive Maintenance for Longevity
Preventive maintenance is the key to extending your scooter's lifespan and reducing the likelihood of major breakdowns. Regularly change the engine oil and check the transmission fluid. Lubricate moving parts, such as the throttle and brake cables, to reduce friction. Keep the chain well-lubricated and adjust its tension as necessary. Staying proactive with maintenance will save you time and money in the long run.
| Scooter Repairs | Description |
| --- | --- |
| Brake Pad Replacement | Replacing worn-out brake pads for improved braking performance. |
| Spark Plug Replacement | Installing new spark plugs to ensure proper ignition and performance. |
| Battery Replacement | Swapping out old batteries for reliable starting and electrical power. |
| Tire Replacement | Installing new tires for better traction and a smoother ride. |
| Belt Replacement | Changing the drive belt to maintain power transmission. |
| Carburetor Cleaning | Cleaning the carburetor to improve fuel efficiency and engine performance. |
| Oil Change | Replacing old engine oil to maintain proper lubrication. |
| Air Filter Replacement | Installing a new air filter for better air intake and performance. |
| Ignition System Check | Inspecting the ignition system to ensure proper functioning. |
| Electrical Repairs | Addressing issues with lights, indicators, and electrical components. |
DIY Scooter Repair: Tackling Common Issues at Home
Scooter repair doesn't always require a visit to the mechanic. With some basic tools and mechanical know-how, you can handle many common problems yourself. In this section, we'll guide you through DIY repairs that can save you both time and money.
Changing the Spark Plug
A worn-out or fouled spark plug can lead to starting problems and reduced engine performance. Luckily, changing a spark plug is a simple task. Start by locating the spark plug, usually found on the side of the engine. Use a spark plug socket to remove the old plug, and then insert the new one, ensuring it's tightened correctly. Regularly replacing the spark plug will keep your engine firing smoothly.
Cleaning the Carburetor
A clogged carburetor can disrupt fuel flow and result in poor engine performance. To clean the carburetor, first, locate it under the scooter's seat or side panel. Carefully remove it, taking note of the various components' positions. Use carburetor cleaner and compressed air to clean the jets, nozzles, and float bowl. Reassemble the carburetor, and your scooter's engine should run more smoothly.
Adjusting the Drive Belt
A loose or worn drive belt can cause power transmission issues and noise. To adjust the drive belt, locate the variator cover on the scooter's transmission case. Loosen the nuts and bolts securing the cover, and then adjust the position of the movable drive face to increase or decrease belt tension. Remember to tighten the nuts and bolts securely after the adjustment.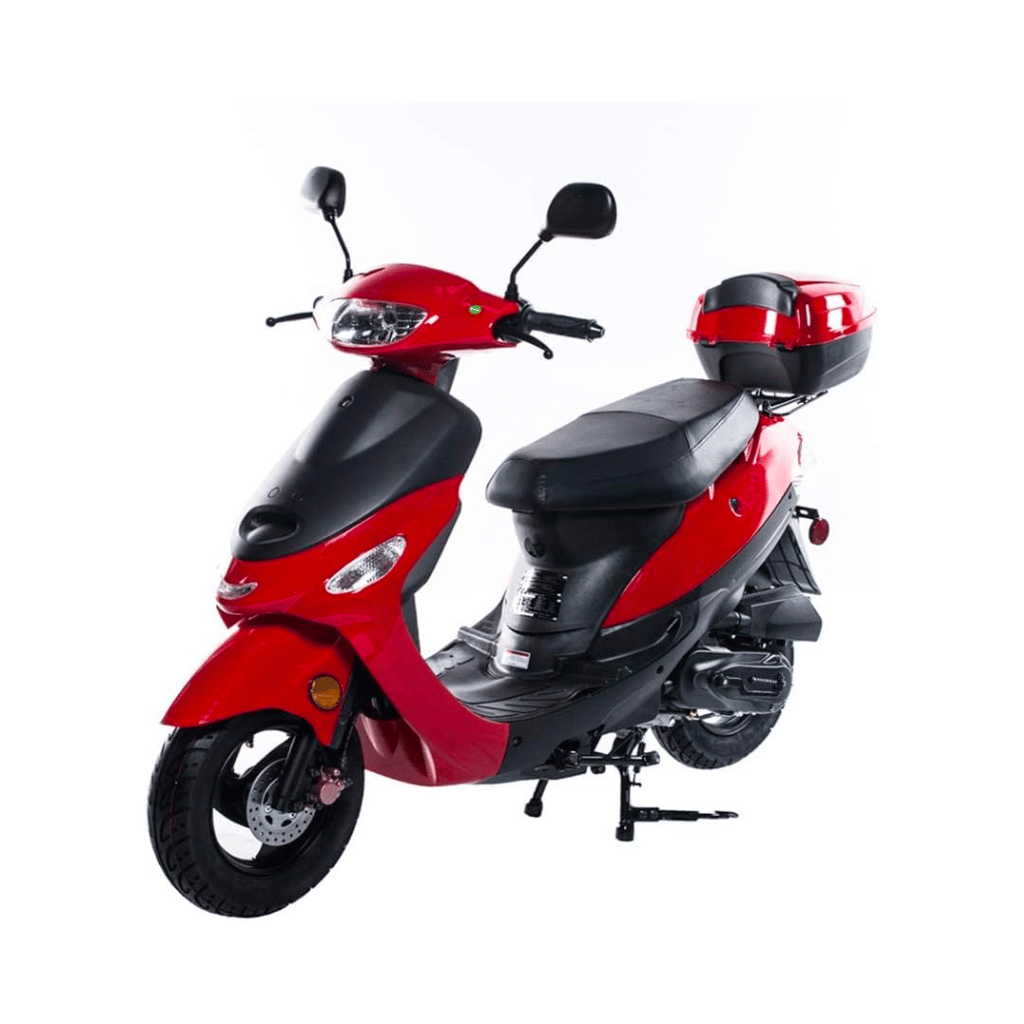 Replacing Brake Pads
Worn brake pads can compromise your safety on the road, so it's crucial to replace them when necessary. To change the brake pads, start by removing the brake caliper's mounting bolts. Slide out the old pads, and then use a C-clamp to compress the caliper piston. Insert the new pads, making sure they align correctly with the rotor. Reattach the caliper and test your brakes before hitting the road.
Cleaning the Air Filter
A dirty air filter can hinder air intake, affecting your scooter's performance. To clean the air filter, locate the airbox and remove the filter. Wash it with mild soap and water, then let it dry completely before reinstalling it. Alternatively, you can replace the air filter if it's excessively dirty or damaged.
Checking and Adjusting Tire Pressure
Maintaining proper tire pressure is essential for safety and performance. Use a tire pressure gauge to check the pressure, and add or release air as needed to meet the recommended range. Properly inflated tires ensure better handling and reduce the risk of punctures.
Professional Scooter Repair: Finding Reliable Assistance
While some repairs can be handled at home, certain issues require the expertise of a professional scooter mechanic. In this section, we'll explore how to find reliable assistance for more complex repairs and maintenance.
Researching Local Scooter Repair Shops
Start by researching local scooter repair shops with a good reputation. Check online reviews and customer feedback to gauge their reliability and quality of service. Look for mechanics with experience working on your scooter's make and model, as they'll have better insights into its specific needs.
Asking for Recommendations
Reach out to fellow scooter enthusiasts or friends who own scooters for recommendations. They might have firsthand experiences with reputable mechanics and can provide valuable insights into the service quality and pricing.
Verifying Certifications and Licenses
Ensure that the mechanics at the repair shop are certified and licensed to work on scooters. Certified mechanics are more likely to have the necessary skills and training to handle complex repairs effectively.
Requesting Quotes and Estimates
Contact the repair shops you've shortlisted and request quotes or estimates for the required repairs or maintenance. Compare the prices and services offered to make an informed decision.
Inquiring About Warranty Coverage
If your scooter is still under warranty, inquire about the repair shop's policy on warranty coverage. Some repairs might be covered, saving you from out-of-pocket expenses.
Checking Turnaround Time
Ask about the expected turnaround time for the repairs. A reliable repair shop should be transparent about the time required to fix your scooter.
How often should I change the engine oil in my scooter?
For optimal performance, it's recommended to change the engine oil every 1000 to 1500 miles or every six months, whichever comes first.
Can I use regular gasoline in my scooter?
Most scooters are designed to run on regular unleaded gasoline. However, always check your scooter's manual for the manufacturer's recommended fuel type.
What should I do if my scooter's battery keeps dying?
If your scooter's battery keeps dying, check for any electrical components draining power when the ignition is off. Also, ensure that the battery terminals are clean and securely connected.
How can I improve my scooter's fuel efficiency?
To improve fuel efficiency, maintain proper tire pressure, and perform regular maintenance, including cleaning the air filter and adjusting the carburetor if necessary.
Is it essential to warm up my scooter before riding?
Warming up your scooter for a minute or two before riding allows the engine to reach its optimal operating temperature, resulting in smoother performance.
How often should I replace the scooter's brake pads?
Brake pads should be replaced when the friction material wears down to about 2-3 millimeters. Inspect them regularly to ensure they're in good condition.
Keeping your scooter in top shape is essential for a safe, enjoyable, and efficient riding experience. By understanding the common issues and conducting regular maintenance, you can ensure your scooter serves you well for years to come.
For minor problems, DIY repairs can save you time and money, while professional mechanics are there to handle more complex issues. Remember to stay proactive with preventive maintenance and prioritize safety above all else. Happy riding!