Top 13 Best Moped Helmets in 2023
Are you tired of scouring the internet for the perfect moped helmet? Look no further! We've compiled a list of the top 13 best moped helmets for 2023 to make your search easier.
Not sure which one to go for? Don't worry, we've got you covered. Our list includes helmets with various features such as ventilation systems, sun visors, and Bluetooth capabilities. We've even included helmets for mopeds with unique designs and colors to help you stand out from the crowd.
13. 1STorm Motorcycle Open Face Helmet Mopeds Scooter
Looking for a half face helmet that will not only protect you but also make you look stylish? Look no further! This helmet comes in a sleek black finishing that will have you turning heads on the road.
But the style isn't the only thing that sets this helmet apart. It also features a detachable clear shield that is uniquely bent to provide extra protection for your face from the sides. And if you think this helmet is only for heavy-duty scooters, think again! Lighter models like the Razor E300, Razor A5 Lux Scooter, and Razor Ecosmart Metro Electric Scooter can also benefit from this helmet's protection.
But what about durability? Don't worry, the thermoplastic alloy shell will ensure that this helmet will stand the test of time. And despite its high-quality materials, it remains lightweight, making it comfortable to wear for long periods.
But don't let the light weight fool you. This helmet is DOT approved and has saved the lives of some buyers who have been in accidents while wearing it.
And let's not forget about the UV protective gloss finishing that gives it an even more polished look. Worried about the face shield fogging up? No problem. You can easily lift it up a notch to clear the fog. And for added ventilation, there are two vents on top to prevent vapors from forming.
So, whether you're a seasoned moped rider or a beginner, this helmet is an excellent choice. It's stylish, lightweight, durable, and most importantly, will provide you with the protection you need to ride safely.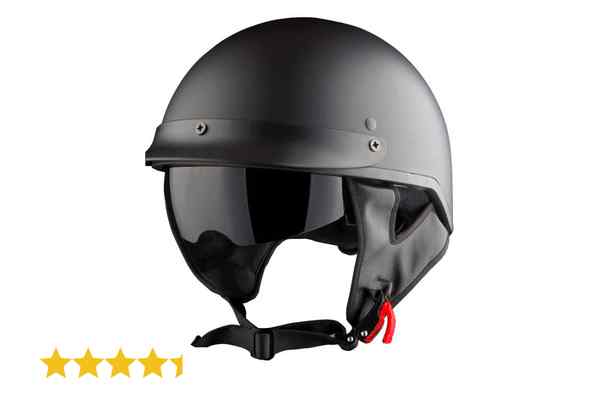 1STorm Motorcycle Open Face Helmet It's lightweight, durable, and DOT approved. The UV protective gloss finish and top vents are additional features that add value to this helmet. It's an excellent choice for both experienced and new moped riders.
12. MMG Motorcycle Helmet Pilot Open Face Flip Up Shield
Looking for a helmet that combines retro style with modern technology? Look no further! This helmet features a Kevlar and glass fiber shell, ensuring durability and protection. And don't worry about sweat and moisture buildup, the inner lining is made from a moisture-absorbing material that can be removed for easy cleaning.
But the protection doesn't stop there. The EPS liner is dual-density, which means that it distributes impact forces more evenly during a crash. And with its aerodynamic design and square type D-ring, this helmet not only looks great but is also easy to put on.
And let's not forget about the clear flip-up windshield that features anti-scratch technology to keep your vision clear. The wide field of view offered by the vizor ensures that you can see everything around you while riding.
So, whether you're a fan of retro style or simply looking for a reliable helmet with modern features, this helmet has it all. The combination of style and technology will have you riding in comfort and safety.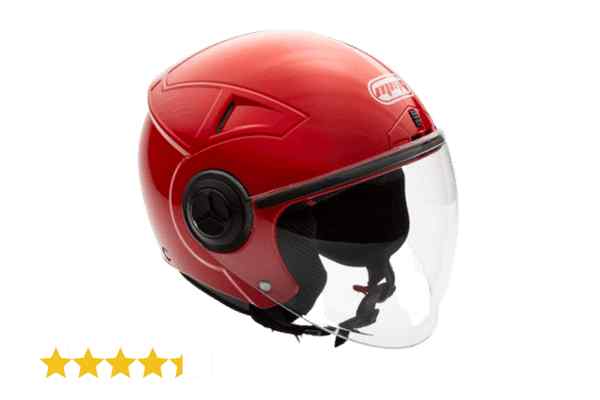 Features a durable Kevlar and glass fiber shell, moisture-absorbing removable lining, and dual-density EPS liner for better impact distribution. The aerodynamic design and easy-to-use square type D-ring add to its convenience, while the clear flip-up windshield with anti-scratch technology offers a wide field of view.
11. AHR Motorcycle Half Face Helmet
Looking for a budget-friendly helmet that doesn't compromise on quality? Look no further than this model. Its high-quality ABS shell is not only durable but also lightweight, making it comfortable to wear. And with a high-density buffer layer, you can rest assured that you'll be protected in case of impact.
But that's not all. The visor also shields your eyes from bugs, debris, and the sun's harmful rays. Plus, this model is DOT approved for safety standards in the United States, ensuring that it's a safe choice.
And when it comes to fit, the adjustable D-ring and chin strap make sure that the helmet stays securely on your head. The padding is also comfortable, making it suitable for longer rides. And with its affordable price, you might even consider buying two, one for yourself and one for a passenger.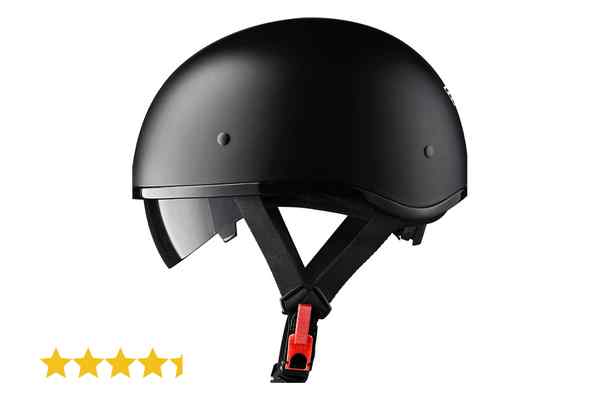 Lightweight ABS shell, high-density buffer layer, and visor for eye protection. DOT approved for safety standards in the US, it also has an adjustable D-ring and comfortable padding for longer rides. Affordable enough to buy two, it's a great value option for riders.
10. Vega Helmets Unisex-Adult Open Face Motorcycle Helmet
If you're in the market for an open face helmet that provides reliable protection, you should definitely consider this model. It's equipped with dual shell protection that combines an inner layer of EPS foam with an outer shell made of ABS thermoplastic alloy. This combination of materials creates a sturdy and reliable layer of protection that can help prevent head injuries in case of an accident.
Despite its thicker shell, this helmet is surprisingly lightweight, weighing in at just 2.3 pounds. This makes it comfortable to wear for extended periods of time, without causing neck or shoulder fatigue.
One of the standout features of this helmet is the optional snap flip shield that can be attached to the front. This shield provides additional protection from the sun's harmful rays, as well as wind and debris. It's optically correct, which means it won't distort your vision, and it's resistant to fogging, even in humid conditions.
The interior lining of the helmet is made from soft, breathable, and hypoallergenic fabric that feels comfortable against the skin. It's also removable and washable, which makes it easy to keep the helmet clean and fresh, even after extended use. Overall, this helmet is a great choice for anyone looking for an open face helmet that combines safety, comfort, and style.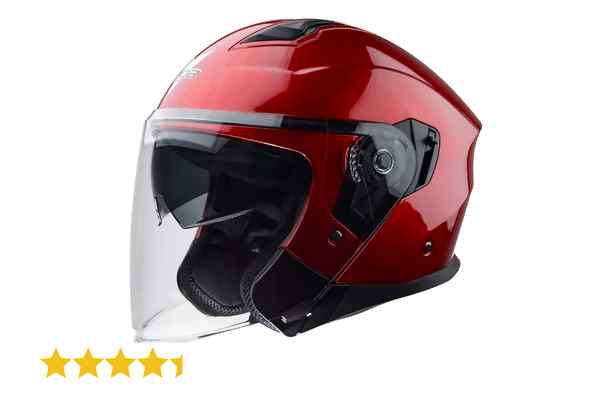 It has dual shell protection with an ABS thermoplastic outer material for safety and durability. It has a vintage design and optional snap flip shield. The interior lining is soft, breathable, and hypoallergenic and can be removed and washed for extended use.
9. ILM Open Face Motorcycle 3/4 Half Helmet
The unparalleled excellence of this product lies in its ability to adhere to the stringent standards of the Transportation Federal Motor Vehicle Safety Standard 218 in the US, coupled with the Department of Transportation Safety Standards, indicating that it is exceptionally adept at ensuring your safety in the event of an unfortunate accident while traversing the winding roads on your motorbike.
As any avid motorcycle rider can attest, soaring temperatures can pose a significant obstacle to an otherwise flawless ride, and that is precisely why this helmet boasts a ventilation system that comprises several strategically placed vents that channel cool air through the helmet, affording you the luxury of unencumbered breathability, thereby elevating your riding experience to dizzying heights of blissful ecstasy.
In addition to its impeccable safety features and its ability to regulate temperature, this model comes equipped with a quick-release buckle that enables you to remove or don the helmet at your leisure, sparing you the irksome inconvenience of languishing in frustration while wrestling with recalcitrant clasps that stubbornly resist your every effort.
This helmet that meets strict safety standards, has a ventilation system to keep the rider cool, and features a quick-release buckle for easy removal. 
8. Raider Open Face Helmet
Embarking on a thrilling escapade on a moped is an experience like no other. And when it comes to safety, the half helmet you choose can make all the difference. Enter the thermoplastic alloy shell, robust and resilient, yet not too hefty to weigh you down. This top-notch headgear has surpassed DOT standards, guaranteeing optimum safety for your ventures.
But safety isn't the only thing that matters, is it? No, sir! Fashion is equally vital, and this helmet will surely not disappoint. With its matte black finishing and modest size, it will add a dash of panache to your outfit. You can also opt to remove the neck curtain if you find it too ostentatious for your taste.
Ah, but wait, there's more! The chin strap features a double-D model, ensuring that the helmet stays firmly in place as you zoom down the roads. And as for the front visor, it's removable as well, giving you added flexibility when you need it most. But here's the kicker, folks: this helmet can even accommodate a communication system, like a Bluetooth motorcycle headset, mounted on it. You heard that right, the possibilities are endless.
What's more, you won't have to worry about struggling to fit this helmet on your head. It's less constrictive than other models, so you can feel at ease while donning it. All in all, this half helmet is the perfect combination of style, safety, and functionality. Your adventures on the moped just got a whole lot better!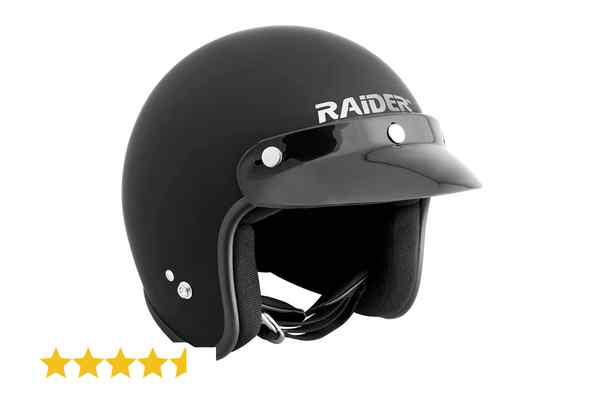 Check out this thermoplastic alloy shell wonder! It's sturdy, lightweight, and DOT certified. And with its detachable neck curtain, double-D model chin strap, removable front visor, and Bluetooth compatibility, it's the perfect combination of style and functionality.
7. VCAN Cruiser Solid Half Face Motorcycle Helmet
This exceptional motorcycle helmet, hailing from one of the most preeminent manufacturers on the planet, boasts an undeniably solid half-face design that is meticulously crafted from top-tier ABS (Acrylonitrile Butadiene Styrene) thermoplastic resin. With an unwavering commitment to adhering to the ubiquitous DOT (Department of Transportation) standards, this helmet is a veritable exemplar of quality.
One of the key tenets of this helmet is its unmatched comfortability. To ensure that you experience the utmost comfort while donning this headgear, the interior is festooned with an indulgent padding that is positively sumptuous. A truly remarkable feature of this helmet is the adjustable double D ring secured nylon chin strap. This vital component is specifically designed to guarantee your safety while you engage in your beloved motorcycle journeys. By reducing the risk of trauma in the event of an untoward mishap, this helmet affords you the peace of mind you deserve.
As a testament to its unparalleled safety measures, this product meets the stringent Federal Motor Vehicle Safety Standard (FMVSS) 218, ensuring that you can ride your motorcycle with complete confidence and unbridled enthusiasm. So go ahead and savor the thrill of the open road, secure in the knowledge that your safety is paramount.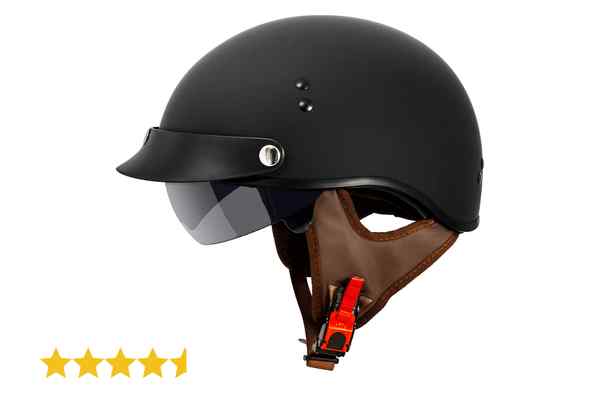 This half-face motorcycle helmet is made by a top manufacturer using high-quality ABS thermoplastic resin and adheres to DOT standards. It features a comfortable interior padding and an adjustable chin strap to reduce the risk of trauma from accidents. It meets the FMVSS 218 safety standard for worry-free riding.
6. Vega Helmets Half Size Warrior Motorcycle Helmet
If you are in the market for a headgear that is not only comfortable but also stylish, then you may want to consider investing in this half helmet. This particular design has been carefully crafted to showcase the high-end technology that has been incorporated into this model, ensuring that it is of the highest quality.
Not only is this headgear suitable for males, but it is also perfect for females who are looking for a sleek and stylish helmet. Additionally, you have the option to select from a matte black finish, or if you are feeling particularly patriotic, you may choose to purchase the model that features a national flag design.
One of the standout features of this helmet is the optically correct sun shield. This sun shield is not only effective in protecting against the harsh rays of the sun but also serves as a barrier against rain and bugs. As a result, your ride will be much more comfortable and enjoyable, particularly during the hotter months.
Furthermore, the inner liner of the helmet has been expertly designed to ensure that it does not hold moisture. This feature also allows the head to breathe, which ultimately contributes to a more comfortable ride experience.
The helmet also comes equipped with a convenient dial system at the back, which allows for easy adjustments for smaller heads. The quick-release strap system is also fully modifiable and extremely comfortable to use, whether you choose to wear gloves or not.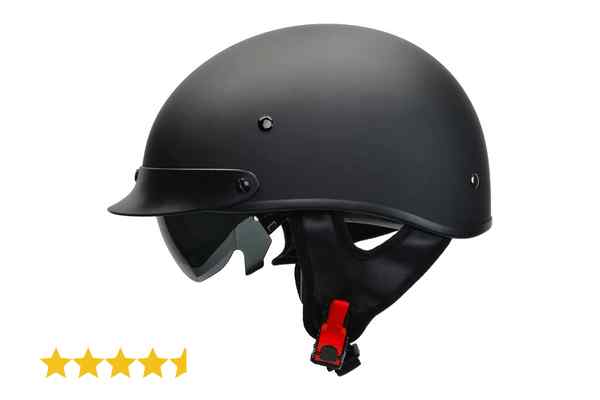 Consider investing in this half helmet with high-end technology. Available in matte black or national flag design. Optically correct sun shield, breathable liner, and adjustable dial system. Quick-release strap system is comfortable and easy to use. Check out our article on motorcycle gloves for added protection.
5.Vega Helmets Warrior Motorcycle Half Helmet with Sunshield
This helmet, fashioned from a bespoke blend of polyester, presents itself as a veritable standout amongst a crowded market of options. Notably, this helmet serves as a paragon of both comfort and style, boasting a lightness of weight alongside a custom-fit designed to maximize your riding experience. And let's not forget the rich tapestry of features – this helmet is truly a "jack of all trades" and a "master of all."
Perhaps most saliently, this helmet is unisex, offering the tantalizing possibility of shared helmet-wearing experiences with friends and family. But beyond this most basic of selling points, we find ourselves awash in a sea of eye-catching features – none more impressive, perhaps, than the optically correct drop-down sun shield.
Protecting your peepers from the punishing rays of the sun and the errant bugs and debris that can plague even the most seasoned rider, this shield is a true boon to the safety-minded rider. But it's not just its protective properties that make it such an impressive feature – it's also incredibly easy to use, ensuring that you can focus on the road ahead without having to constantly fiddle with your gear.
And let's not forget the size-adjustment dial system – an engineering marvel that makes this helmet a true one-size-fits-all solution for riders of any gender or experience level. So why wait? Invest in this marvel of engineering today and experience the best that the world of helmet technology has to offer!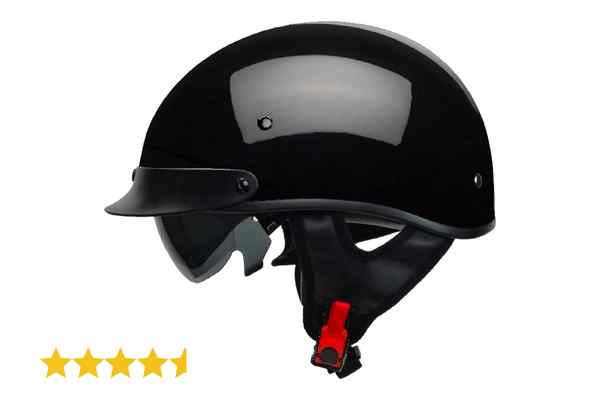 It is unisex and has a lightweight custom-fit with a plethora of features, including an optically correct drop-down sun shield and a size-adjustment dial system. Invest in this versatile and impressive piece of engineering today to enhance your riding experience.
4. ScorpionEXO Covert Open Face Half Shell 3/4
The helmet comes equipped with a retractable sun visor that can be easily operated with a single hand. This feature will come in handy when riding in bright sunlight, providing you with optimal visibility and reducing glare. Additionally, the visor is also anti-fog and anti-scratch, ensuring that you have a clear view of the road ahead at all times.
The ScorpionEXO Covert Open Face Half Shell 3/4 Mode Motorcycle Helmet Dot is also designed with comfort in mind. It comes with a moisture-wicking liner that is removable and washable, allowing you to keep your helmet fresh and clean at all times. The liner is also breathable, ensuring that you stay cool and comfortable during long rides.
Safety is always a top priority when it comes to motorcycle helmets, and the ScorpionEXO Covert Open Face Half Shell 3/4 Mode Motorcycle Helmet Dot is no exception. It meets and exceeds DOT safety standards, providing you with peace of mind while on the road.
Overall, the ScorpionEXO Covert Open Face Half Shell 3/4 Mode Motorcycle Helmet Dot is a top-of-the-line helmet that offers style, comfort, and most importantly, safety. Whether you're a seasoned rider or a beginner, this helmet is sure to meet all your needs and expectations.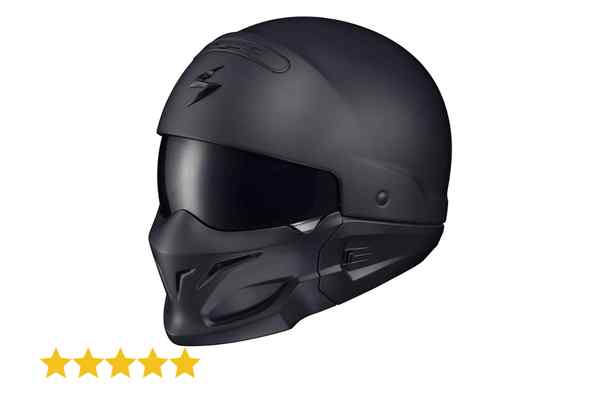 Top-of-the-line helmet that comes equipped with a retractable sun visor, anti-fog and anti-scratch features, and a breathable, removable, and washable moisture-wicking liner. It meets and exceeds DOT safety standards, providing excellent protection for riders.
When it comes to ensuring the absolute safety and security of oneself whilst embarking on a motorcycle journey, it is highly recommended – nay, strongly advised – that one employs the usage of a full-face helmet, such as the one that we are discussing in this present moment. Not only does this particular model offer a defense against the hazards that one may encounter on the road, but it also presents an unparalleled barrier against the infiltration of dust particles and insects into one's oral cavity – a fate that one would be remiss to endure.
What sets this helmet apart from its half-faced counterpart, one may ask? Well, the answer lies within the multifaceted design of the helmet itself, including its convenient and highly efficient sun visor system. With the ability to effortlessly alternate between sun visors in the event that the current one becomes tarnished or otherwise soiled, this helmet truly stands in a league of its own. And fear not, for the removal and installation of said visor does not require any extraneous tools or equipment, as the designers of this product had the foresight to make such a process as simple and straightforward as possible – allowing one to focus on the matter at hand, rather than the tediousness of replacing a visor.
Speaking of focusing on the task at hand, the helmet in question also boasts the presence of a quick-release buckle, facilitating the ease with which one can remove or apply the helmet as the situation demands. For those who value efficiency and expediency in all aspects of their lives, the quick-release buckle serves as a testament to the foresight and practicality of the helmet's designers, further solidifying this product's position as a top contender in the realm of motorcycle safety gear.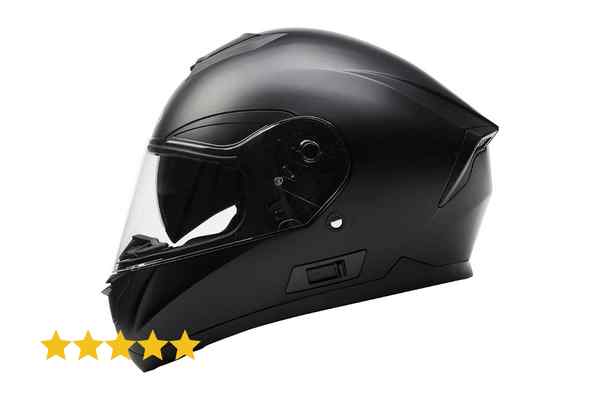 This model not only guards against accidents but also prevents dust and bugs from entering your mouth, unlike a half-face model. It has a convenient sun visor system that's easy to use and doesn't require any tools for removal or installation
2. Daytona Helmets D.O.T.
Those who have had the opportunity to employ this helmet have expressed its superiority to other models in terms of comfort. Upon substitution of your existing helmet with this one, you experience a drastic shift from sitting on a mere plastic chair to the sensation of sitting on an opulent and weighty couch. The headgear in question boasts of exceptional adjustability and although initial fittings may not be optimal, once properly tweaked, it will provide unparalleled comfort.
The double-D ring straps, forming an integral part of the helmet, allow you to fine-tune the helmet's fit on your head, and remarkably, this can even be achieved while wearing gloves. Visually, this model exhibits a smaller profile than is depicted in the photos and does not augment the size of your cranium. Interestingly, this model has the potential to be an outstanding option for a child's motorcycle helmet.
This model effortlessly surpasses DOT requirements by virtue of its construction from highly resilient carbon fiber. In addition, the helmet is impressively lightweight, tipping the scales at a mere 2.5 pounds. Moreover, the interior of the helmet boasts of a state-of-the-art nylon fabric that expertly wicks away moisture and ensures your head remains cool and dry at all times.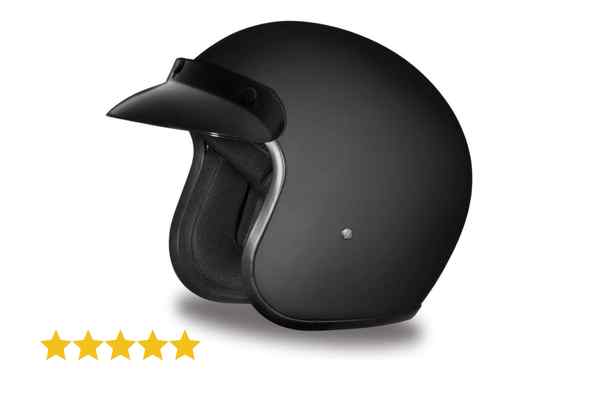 It's lightweight and made from highly durable carbon fiber that meets and exceeds DOT requirements. The interior nylon fabric draws off moisture, keeping your head cool and dry. The double-D ring straps allow for fine-tuning of the fit, even while wearing gloves.
1. Shoei GT-Air II Helmet
The Shoei GT-Air II Helmet is a premium motorcycle helmet designed to offer exceptional comfort, performance, and protection for riders who demand the best.
Constructed with Shoei's advanced multi-ply matrix AIM shell, this helmet is engineered to be lightweight and incredibly strong, providing excellent impact absorption in the event of an accident. The shell is also designed to optimize ventilation, with a top air outlet and a rear exhaust vent that work together to keep you cool and comfortable during long rides.
Inside the helmet, you'll find a fully removable and washable multi-density EPS liner that is designed to contour to the shape of your head for a custom fit. The liner also features Shoei's Emergency Quick Release System, which allows first responders to safely remove the helmet in the event of an accident.
The Shoei GT-Air II Helmet also features an advanced visor system, with a distortion-free CWR-1 pinlock visor that provides a wide field of vision and superior clarity. The visor is also equipped with a quick-release mechanism that makes it easy to change out for different riding conditions.
Other features of the Shoei GT-Air II Helmet include a built-in sun visor that can be easily deployed with a simple flip of a switch, as well as a fully adjustable chin strap that ensures a secure and comfortable fit.
Overall, the Shoei GT-Air II Helmet is a top-of-the-line motorcycle helmet that combines exceptional comfort, performance, and protection in one sleek and stylish package. Whether you're a seasoned rider or just starting out, this helmet is the perfect choice for anyone who demands the best.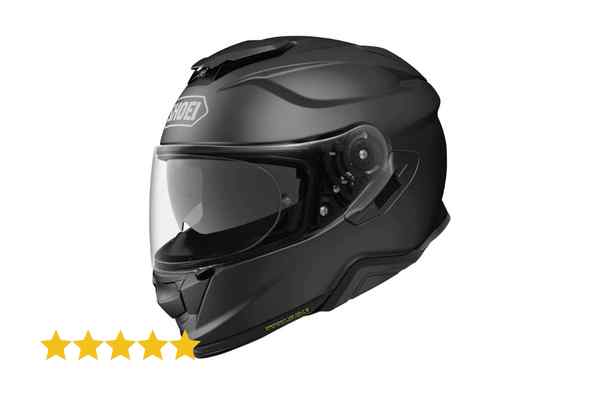 Premium motorcycle helmet that offers exceptional comfort, performance, and protection. It features a lightweight and strong multi-ply matrix AIM shell with optimized ventilation, a removable and washable EPS liner, an advanced visor system with a distortion-free CWR-1 pinlock visor, and a built-in sun visor.
How should you choose a model?
Motorcycle helmets come in a variety of shapes and sizes, each offering different levels of protection and features. Among the most popular types of helmets is the half helmet, which provides a unique experience for riders. While allowing the wind to caress your face with its gentle breeze, this type of helmet also offers decent protection. These helmets exude a classic look that adds to the overall aesthetics of you and your moped. The lightweight construction of half helmets makes them a great choice for those who value comfort and mobility, but it's important to note that they may not offer as much protection as full face helmets.
To add an extra layer of safety, some half face models come equipped with a windshield or visor to provide additional coverage to the face area. Additionally, neck curtains are often included to offer more protection to the neck and ears, and they are usually detachable for convenience.
Another benefit of the half helmet is its ability to accommodate communication systems more easily, thanks to the absence of full coverage around the ears. Some models even leave the ears exposed, allowing riders to use headphones or Bluetooth devices with ease. However, it's important to keep in mind that using these devices may impact your ability to hear traffic noise.
For those who prioritize safety over appearance or feel, full face helmets are the way to go. These helmets provide complete coverage of the head, face, and chin, ensuring maximum protection in the event of an accident. Full face helmets tend to be more robust, but also a bit heavier than their half helmet counterparts. It's important to consider whether the extra safety features are worth sacrificing a bit of comfort and pleasure while riding. However, full face helmets do provide the option to mount a motorcycle helmet cam for those looking to capture their adventures on film.
Full face helmets come in a wide range of styles and models, each offering different features and benefits. Some even have removable inner padding, allowing riders to customize the fit to their liking. In some models, the padding around the ears can be removed, providing more room to accommodate communication systems.
In conclusion, when choosing a motorcycle helmet, it's important to consider both the level of protection and the features that best fit your needs. Half helmets offer a unique experience with a classic look and lightweight construction, while full face helmets provide maximum coverage and protection. Ultimately, the decision comes down to personal preference and what you prioritize most while riding.