Motorized two-wheelers are becoming increasingly popular as a convenient and cost-effective mode of transportation. Scooters and motorcycles are two popular choices for individuals seeking to zip through traffic and reach their destinations efficiently.
However, when it comes to deciding between the two, many people find themselves in a dilemma. This article aims to help you understand the key factors that differentiate scooters and motorcycles, enabling you to choose the right vehicle that suits your needs and preferences.
Table of Contents – Scooter or Motorcycle
Understanding the Differences
Both scooters and motorcycles have distinct features that set them apart. Let's explore these differences to determine which option aligns better with your lifestyle:
Engine Size and Performance
Scooters usually have smaller engines, typically ranging from 50cc to 250cc. They are designed for city commuting and short trips, offering good fuel efficiency and ease of use.
Motorcycles, on the other hand, come with larger engines, starting from 125cc and going up to 2000cc or more. This increased engine power provides higher speed and better performance, making motorcycles ideal for longer journeys and highway riding.
Ease of Use and Maneuverability
Scooters have automatic transmissions, making them extremely user-friendly, especially for beginners. The twist-and-go operation eliminates the need for gear shifting.
Motorcycles, generally equipped with manual transmissions, require more skill and practice to master. Shifting gears adds complexity but also allows experienced riders to have more control over their speed and power.
| Feature | Scooter | Motorcycle |
| --- | --- | --- |
| Engine Size | Smaller (50cc to 250cc) | Larger (125cc to 2000cc+) |
| Transmission | Automatic (Twist-and-go) | Manual (Gears) |
| Styling | Sleek, compact design | Diverse styles (cruisers, sports, etc.) |
| Comfort | Wide, cushioned seat | Upright seating position |
| Maneuverability | Easy to navigate in tight spaces | Requires more skill |
| Purpose | City commuting, short trips | Long journeys, highway riding |
| Price Range | More affordable | Varies widely |
| Licensing Requirements | May require regular license | Often requires a motorcycle license |
| Insurance Costs | Lower premiums | Can be higher |
| Fuel Efficiency | Highly fuel-efficient | Fuel consumption varies |
| Customization | Limited options | Wide array of aftermarket parts |
| Environmental Impact | Can be eco-friendly (electric) | Growing eco-friendly options |
| Storage Capacity | Built-in storage compartment | Additional accessories may be needed |
| Safety Gear | Less protective gear needed | Full protective gear essential |
| Riding Experience | Smooth, relaxed ride | Adventurous and exhilarating |
| Road Conditions | Best for city roads | Suitable for various terrains |
| Parking & Storage | Easy to park in crowded areas | May require more substantial space |
| Resale Value | May depreciate faster | Varies based on model and usage |
| Noise Level | Lower noise production | Varies based on the model |
| Community & Culture | Urban mobility emphasis | Diverse subcultures and camaraderie |
| Safety | Lower speeds, less risk | Responsible riding essential |
Styling and Design
Scooters often have a sleek and compact design with an under-seat storage compartment. Their step-through frame makes it easy to hop on and off, and they offer a more relaxed riding position.
Motorcycles come in various styles, such as cruisers, sportbikes, and touring bikes, catering to different preferences. They have a more upright seating position and lack the storage space common in scooters.
Comfort and Ergonomics
Scooters prioritize comfort with their wide, cushioned seats and footrests. They provide a smooth and stable ride, ideal for everyday commuting.
Motorcycles, especially touring models, offer better long-distance comfort with their ergonomic designs and features like windshields, adjustable seats, and advanced suspension systems.
Safety Features
Scooters often have smaller wheels, which can impact stability at higher speeds but offer better maneuverability in tight spaces.
Motorcycles, with their larger wheels and higher center of gravity, provide better stability at higher speeds but may require more effort to navigate in congested areas.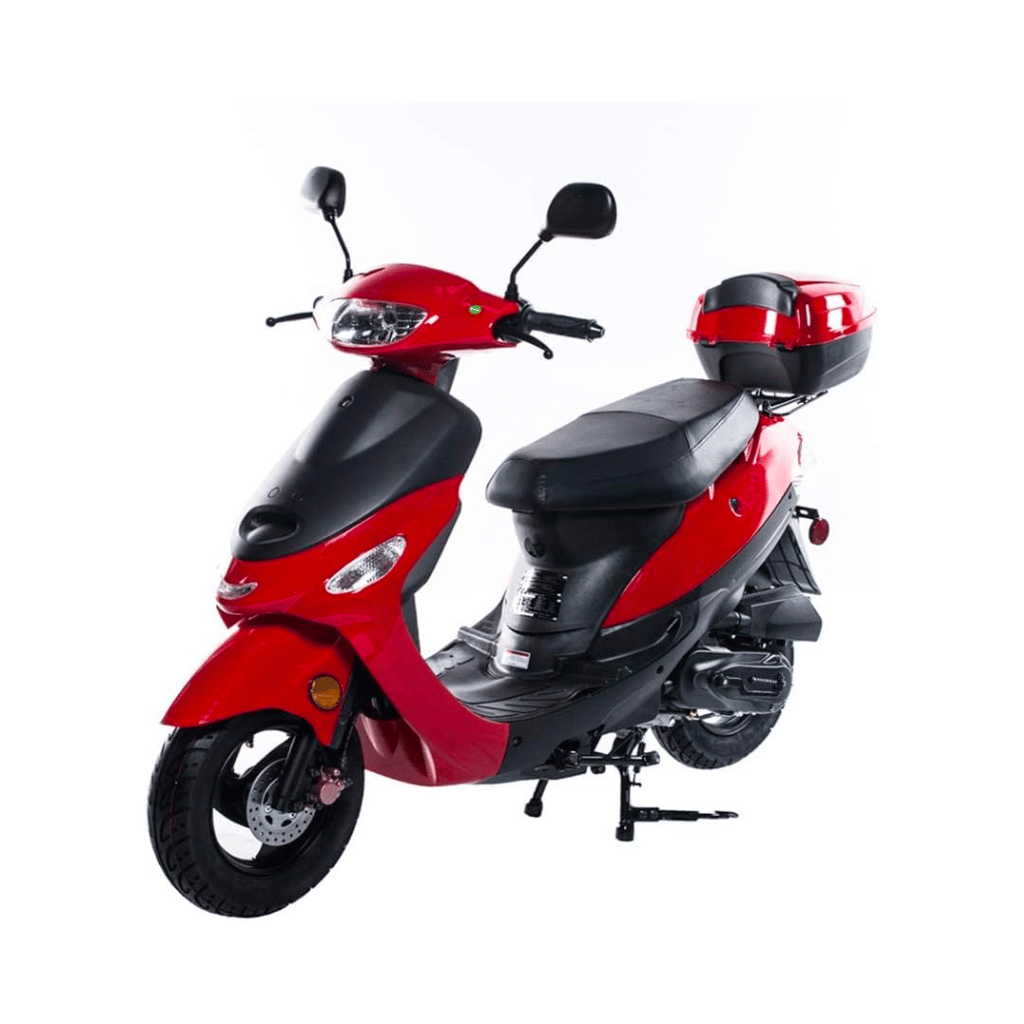 Price Range
Scooters are generally more affordable than motorcycles, making them a budget-friendly option for those seeking economical transportation.
Motorcycles, especially high-performance models, can be more expensive due to their advanced technology and larger engines.
License Requirements
Many countries and states have different licensing requirements for scooters and motorcycles. Scooters, with their smaller engines, may allow riders to operate with a regular driver's license in some places.
Motorcycles often require a specialized motorcycle license, which involves passing a separate test.
Insurance Costs
Insurance premiums for scooters tend to be lower compared to motorcycles due to the smaller engine size and less risk associated with accidents.
Motorcycles, particularly high-powered ones, may come with higher insurance costs, as they are seen as riskier to insure.
Maintenance and Fuel Efficiency
Scooters are generally more fuel-efficient, making them a cost-effective choice for daily commuting.
Motorcycles, with their larger engines, may consume more fuel but often require less frequent maintenance due to their robust build.
Environmental Impact
Scooters, especially electric models, have a smaller carbon footprint, promoting eco-friendly transportation.
Motorcycles can also be eco-friendly, with a growing number of electric and low-emission models available in the market.
Comparing User Experience
Community and Culture
Scooter communities often emphasize urban mobility and a more laid-back approach to riding.
Motorcycles have diverse subcultures, including cruiser enthusiasts, adventure riders, and sports bike fans, each with its own unique sense of camaraderie.
Storage and Carrying Capacity
Scooters usually have built-in storage compartments, providing convenient space for small items like groceries or a helmet.
Motorcycles might require additional accessories like saddlebags or top cases for storage, depending on the model.
Customization Options
Scooters typically have limited customization options due to their compact designs and simpler structures.
Motorcycles offer a wide array of aftermarket parts and accessories, allowing riders to personalize their bikes according to their tastes.
Noise Level
Scooters generally produce less noise compared to motorcycles, which might be a consideration if noise pollution is a concern.
Riding Experience and Adventure
Scooters offer a smooth and relaxed ride, suitable for city commutes and short trips.
Motorcycles, with their powerful engines and versatile handling, provide a more adventurous and exhilarating riding experience, particularly for long journeys or off-road adventure.
Road and Weather Conditions
Scooters are well-suited for city roads and moderate weather conditions due to their design and tire size.
Motorcycles, with their sturdier construction and larger wheels, can handle a broader range of road and weather conditions, making them more suitable for varied terrains and climates.
Parking and Storage
Scooters' compact size makes them easy to park in crowded urban areas, and they often fit in small storage spaces.
Motorcycles may require more substantial parking spots and secure storage arrangements, such as garages or designated motorcycle parking areas.
Resale Value
Scooters tend to have a higher depreciation rate compared to motorcycles, which may affect their resale value.
Safety Gear
Scooter riders may require less protective gear due to the typically lower speeds involved in city commuting.
Motorcycle riders should invest in full protective gear, including helmets, jackets, gloves, and boots, to ensure safety at higher speeds.
Q: Which one is more cost-effective, a scooter, or a motorcycle?
A: In terms of upfront cost and fuel efficiency, scooters generally win as they are more budget-friendly and consume less fuel. However, it's essential to consider long-term factors, such as insurance costs and resale value, which can vary based on the model and usage.
Q: Are motorcycles more dangerous than scooters?
A: The safety of any vehicle depends on various factors, including the rider's experience, adherence to safety measures, and road conditions. While motorcycles may be associated with higher risks due to their higher speeds and power, responsible riding and proper safety gear can mitigate these risks significantly.
Q: Can scooters handle highway speeds?
A: Smaller scooters with lower engine capacities may struggle to maintain high speeds on highways, limiting their use for longer, faster journeys. However, some larger scooters, especially those with engines above 250cc, can handle highway speeds more comfortably.
Q: Do scooters have storage space for carrying items?
A: Yes, most scooters come equipped with storage compartments, typically located under the seat, providing ample space to carry small items like groceries or a helmet.
Q: Do I need a special license to ride a scooter or motorcycle?
A: Licensing requirements vary from country to country and even from state to state. In many places, small scooters (50cc) may require only a regular driver's license, while larger scooters and motorcycles often need a specific motorcycle license or endorsement.
Q: Can motorcycles be as fuel-efficient as scooters?
A: While motorcycles with larger engines may not match the fuel efficiency of smaller scooters, modern motorcycles are designed with better fuel consumption in mind. Some smaller-displacement motorcycles can offer comparable fuel efficiency to certain scooters.
Choosing between a scooter and a motorcycle depends on several factors, including your riding preferences, budget, experience, and intended use. Scooters excel in urban environments, offering convenience, fuel efficiency, and easy maneuverability, making them a popular choice for daily commutes and short trips.
On the other hand, motorcycles cater to those seeking more power, versatility, and a thrilling riding experience. They are better suited for long-distance travel, highway cruising, and adventurous journeys. Additionally, motorcycles provide a broader range of customization options for riders who wish to personalize their rides.
Ultimately, whether you opt for a scooter or a motorcycle, always prioritize safety and responsible riding practices. Invest in proper safety gear, undergo appropriate training, and follow traffic rules to ensure a safe and enjoyable journey on whichever two-wheeled vehicle you choose.