Winter brings cold weather and challenging conditions, but does that mean you have to abandon your electric scooter until spring arrives? In this article, we'll explore whether riding an electric scooter in the winter is possible and how you can do it safely. So, let's dive in!
Riding an Electric Scooter in Winter
Winter conditions can pose difficulties for electric scooter riders. Snow, ice, and freezing temperatures can affect the scooter's performance and the safety of the rider.
However, with some precautions and adjustments, you can continue riding your electric scooter throughout the winter season.
To ride safely in winter, consider the following tips:
Maintain a slower speed: Reduce your speed to maintain better control on slippery surfaces.
Avoid sharp turns: Make wider turns to avoid skidding.
Stay visible: Wear reflective clothing and use lights to ensure other road users can see you.
Check weather conditions: Be aware of any weather alerts or predictions before heading out.
Monitor battery life: Cold temperatures can affect the battery performance, so keep an eye on the charge level.
Mind the road conditions: Be cautious of icy patches, puddles, and wet leaves that can make the road slippery.
Keep your scooter clean: Regularly clean your scooter to remove salt, dirt, and debris that can impact its performance.
Dress appropriately: Wear warm and waterproof clothing to protect yourself from the cold.
Preparing Your Electric Scooter for Winter
Proper maintenance and preparation are crucial for riding an electric scooter in winter. Consider the following steps to ensure your scooter is ready for the challenges ahead:
Battery maintenance and storage: Store your scooter in a dry place and keep the battery charged. If storing for an extended period, consult the manufacturer's guidelines.                              
Winterizing your scooter: Apply a protective coating to prevent rust, lubricate moving parts, and check the tires for wear and tear.
Choosing the Right Electric Scooter for Winter
Not all electric scooters are designed to handle winter conditions. When selecting a scooter for winter riding, consider the following features:
Tire type: Look for scooters with wider, air-filled or tubeless tires for better traction on slippery surfaces.
Water resistance: Opt for scooters with waterproof or water-resistant features to protect electrical components.
Power and torque: Choose a scooter with sufficient power and torque to handle inclines and rough terrain.
Suspension: Scooters with suspension systems offer a smoother ride, especially on uneven surfaces.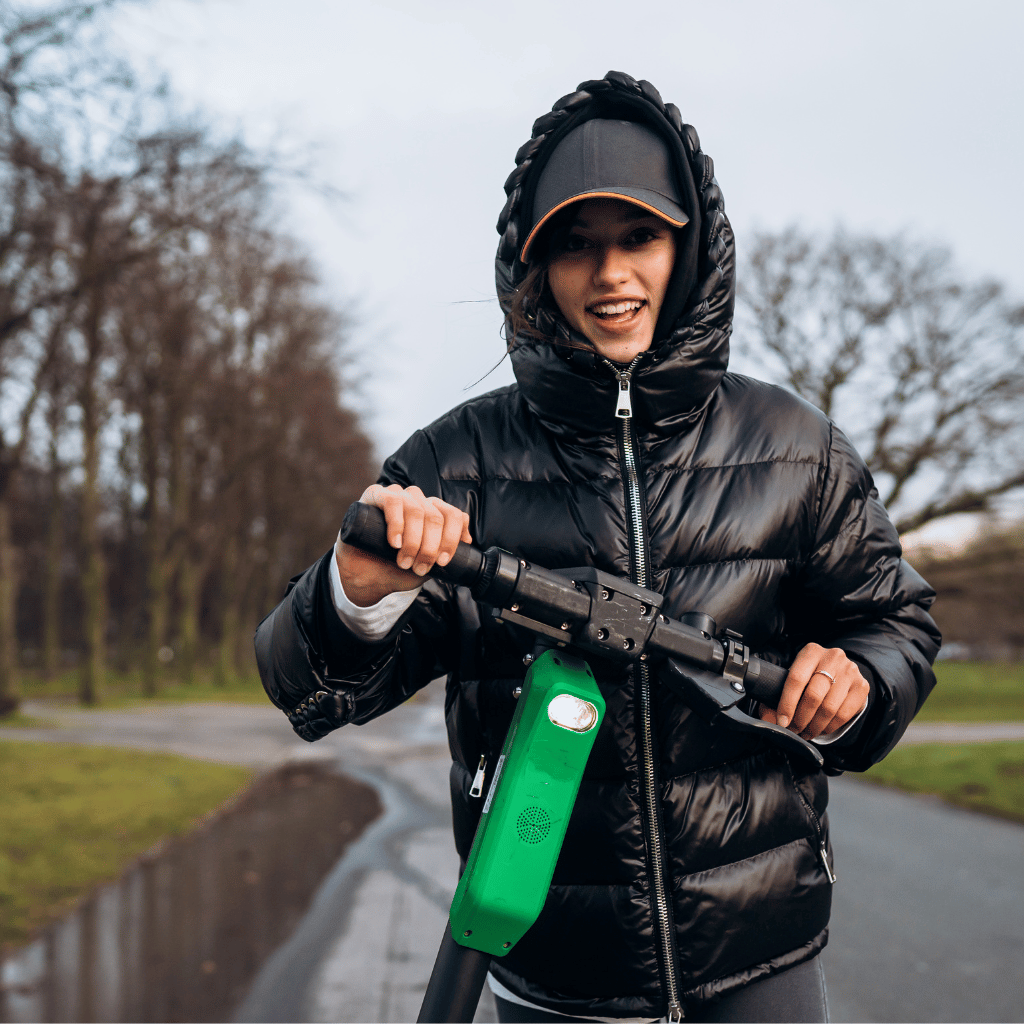 Winter Accessories for Electric Scooters
To enhance safety and comfort during winter rides, consider investing in the following accessories:
Face mask or balaclava: Protect your face from cold winds and improve overall comfort.
Helmet with a visor: Choose a helmet with a built-in visor or wear goggles to shield your eyes from wind and debris.
Reflective clothing: Wear reflective jackets, vests, or accessories to increase visibility in low-light conditions.
Waterproof backpack: Keep your belongings dry while riding through rain or snow.
Tips for Safe Winter Riding
Riding an electric scooter in winter requires some adjustments in technique and increased caution. Consider the following tips for a safer winter riding experience:
Maintain balance and control: Keep your center of gravity low and distribute your weight evenly to maintain balance.
Adjust your riding technique: Brake earlier and gradually to avoid skidding, and avoid sudden acceleration or deceleration.
Take corners with care: Slow down before turning and lean gently to maintain stability.
Watch out for pedestrians: Be cautious of pedestrians who might not expect to encounter a scooter in winter conditions.
Maintenance and Care in Winter
Regular maintenance is essential to keep your electric scooter in optimal condition during the winter season. Follow these tips:
Cleaning and protecting your scooter: Regularly clean your scooter to remove salt and other residues that can cause damage. Apply a protective spray to prevent rust.
Checking for wear and tear: Inspect your scooter for any signs of wear, especially on the tires, brakes, and suspension.
Riding an electric scooter in winter is possible with the right precautions and preparations. By understanding the challenges, adapting your riding technique, and maintaining your scooter properly, you can enjoy the benefits of electric scooters year-round. Stay safe, stay warm, and happy riding!
1. Can I ride an electric scooter in the snow?
Riding an electric scooter in the snow is not recommended. The scooter's tires lack the necessary traction, and snow can damage the electrical components.
2. Can I ride an electric scooter in freezing temperatures?
Yes, you can ride an electric scooter in freezing temperatures. However, ensure you take precautions and dress appropriately for the weather conditions.
3. Can I ride an electric scooter on icy roads?
It's generally not advisable to ride an electric scooter on icy roads due to the increased risk of accidents. If the road conditions are unsafe, it's best to avoid riding altogether.
4. Do I need to charge the battery more frequently in cold weather?
Cold temperatures can affect the battery performance of an electric scooter. It's advisable to monitor the battery level and charge it more frequently in colder conditions.
5. What should I do if my scooter gets wet in the rain or snow?
If your scooter gets wet, dry it thoroughly to prevent damage to the electrical components. Ensure you clean and lubricate any parts that might be affected by moisture.