Electric scooters have revolutionized urban mobility, offering a cost-effective and efficient way to travel short distances. With their growing popularity, riders often find themselves riding in various weather conditions, including rain. But can electric scooters withstand wet weather?
The Functioning of Electric Scooters
Before we delve into the topic, let's briefly understand how electric scooters work. Electric scooters are powered by rechargeable batteries that drive an electric motor. These scooters typically have a control panel to adjust speed and braking. The batteries provide the necessary power to propel the scooter forward.
Waterproofing Features of Electric Scooters
Manufacturers understand that riders may encounter rain while using electric scooters. As a result, many electric scooters come equipped with waterproofing features. These features may include sealed battery compartments, waterproof connectors, and water-resistant components to protect the internal electrical system from water damage.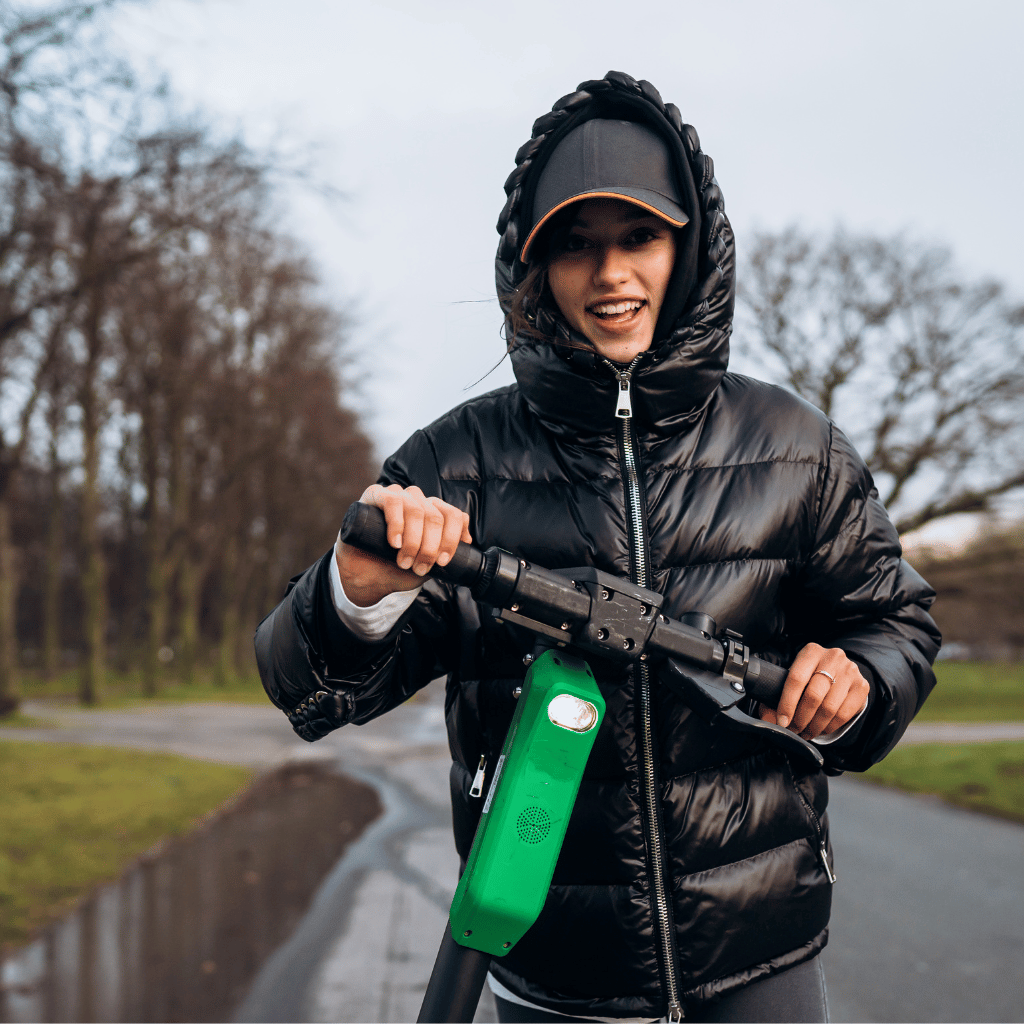 Riding Electric Scooters in Light Rain
In light rain conditions, electric scooters with adequate waterproofing features can generally withstand the moisture without significant issues. However, it is important to exercise caution while riding in wet conditions to ensure safety. Reduced visibility and slippery surfaces can increase the risk of accidents.
Riding Electric Scooters in Heavy Rain
While electric scooters may be designed to handle light rain, riding them in heavy rain is not recommended. Heavy rain can pose several challenges, including a higher risk of water damage to sensitive electrical components. Additionally, the reduced grip on wet surfaces can lead to accidents, compromising the rider's safety.
Safety Considerations for Riding in the Rain
When riding an electric scooter in the rain, it is crucial to prioritize safety. Here are some safety considerations to keep in mind:
Wear appropriate gear: Use a waterproof jacket, helmet, and non-slip shoes to ensure your safety and visibility.
Reduce speed: Adjust your speed according to the wet road conditions to maintain control and prevent skidding.
Increase braking distance: The wet surface reduces the scooter's braking efficiency, so allow for a greater distance to stop safely.
Be visible: Use lights and reflectors to make yourself more visible to other road users.
Avoid puddles: Puddles may conceal hazards or potholes, so try to steer clear of them to prevent accidents.
Maintenance Tips for Electric Scooters After Riding in the Rain
After riding an electric scooter in the rain, it is essential to perform maintenance to prolong its lifespan. Here are some maintenance tips to follow:
Dry the scooter: Use a dry cloth or towel to wipe off any moisture from the scooter's surface.
Inspect the electrical components: Check for any signs of water damage or corrosion on the electrical connectors.
Lubricate moving parts: Apply lubricant to prevent rust and ensure smooth functioning of moving parts.
Charge the battery: If the scooter's battery level is low, recharge it to maintain optimal performance.
Popular Electric Scooter Models with Rain Resistance
Some electric scooter manufacturers specifically design their models with enhanced rain resistance features. These models often come with additional waterproofing measures to provide riders with more confidence when riding in wet conditions. Examples of popular electric scooter models with rain resistance include.
Benefits of Using Electric Scooters in the Rain
Despite the challenges, using electric scooters in the rain can offer certain advantages, such as:
Convenience: Electric scooters provide a quick and convenient way to navigate through urban areas, even in rainy weather.
Cost-effective: Electric scooters are generally more affordable than other modes of transportation, making them a cost-effective choice.
Eco-friendly: Electric scooters produce zero emissions, contributing to a cleaner environment even when used during rain showers.
Drawbacks of Using Electric Scooters in the Rain
While there are benefits to riding electric scooters in the rain, it's important to acknowledge the drawbacks as well, including:
Safety concerns: Wet road surfaces and reduced visibility increase the risk of accidents.
Potential damage: Heavy rain can lead to water damage and corrosion of electrical components.
Maintenance requirements: Riding in the rain necessitates additional maintenance to prevent long-term damage to the scooter.
Alternative Transportation Options in the Rain
In situations where riding an electric scooter in the rain is not feasible or safe, it's helpful to consider alternative transportation options. Some alternatives to electric scooters during rainy weather include public transportation, ride-sharing services, taxis, or personal vehicles with adequate weather protection.
While electric scooters can be used in light rain with appropriate caution, riding them in heavy rain is not recommended. Manufacturers equip many electric scooters with waterproofing features to withstand light rain, but riders should prioritize safety and exercise caution when encountering wet conditions. Proper maintenance is also crucial to prevent water damage and prolong the lifespan of electric scooters.
FAQ 1: Are electric scooters completely waterproof?
Electric scooters often come with waterproofing features, but they may not be completely waterproof. It is advisable to check the manufacturer's specifications for the level of waterproofing offered by a particular model.
FAQ 2: Can I ride my electric scooter in heavy rainstorms?
Riding an electric scooter in heavy rainstorms is not recommended due to safety concerns and the potential for water damage to the electrical components. It is best to seek alternative transportation options during such weather conditions.
FAQ 3: How can I maintain my electric scooter after riding in the rain?
After riding in the rain, dry the scooter with a cloth, inspect the electrical components for water damage, lubricate moving parts, and charge the battery if needed.
FAQ 4: Are there any electric scooter models specifically designed for rain riding?
Yes, some electric scooter models have enhanced rain resistance features and additional waterproofing measures. These models are designed to offer riders more confidence when riding in wet conditions.
FAQ 5: What are some alternative transportation options during rainy weather?
During rainy weather, you can consider using public transportation, ride-sharing services, taxis, or personal vehicles with adequate weather protection as alternative transportation options.