Dirt biking is an exhilarating sport that attracts riders of all ages. Whether you're a beginner or an experienced rider, understanding the capabilities and limitations of different dirt bike classes is crucial.
One popular class is the 50cc dirt bike, known for its compact size and suitability for younger riders. In this article, we'll explore the speed potential of a 50cc dirt bike, factors affecting its speed, and other essential information for enthusiasts. So, let's dive in!
Understanding Engine Displacement
Engine displacement refers to the total volume of all the cylinders in an engine. It is typically measured in cubic centimeters (cc). In general, a higher engine displacement indicates more power and potential for greater speeds.
A 50cc dirt bike, as the name suggests, has an engine displacement of 50cc. While it may seem small in comparison to larger dirt bike classes, it still packs a punch when it comes to performance.
Average Speed of a 50cc Dirt Bike
When it comes to the average speed of a 50cc dirt bike, it can vary depending on various factors. On average, a 50cc dirt bike can reach speeds ranging from 25 to 40 miles per hour (40 to 64 kilometers per hour). However, it's important to note that these are approximate figures, and actual speeds may differ based on the specific model, conditions, and rider factors.
While some riders may experience speeds on the higher end of the range, others may achieve slightly lower speeds. Factors such as bike modifications, maintenance, and the rider's skill level can contribute to these variations.
Several factors influence the speed of a 50cc dirt bike. Understanding these factors can help riders make informed decisions and optimize their riding experience.
Bike Weight
The weight of the dirt bike plays a significant role in determining its speed. Generally, lighter bikes tend to have better acceleration and higher top speeds. Manufacturers often prioritize reducing the weight of 50cc dirt bikes to enhance their overall performance.
Rider Weight
In addition to the bike's weight, the weight of the rider also affects speed. Heavier riders may experience a slight decrease in speed compared to lighter riders due to the additional load on the bike.
Terrain and Track Conditions
The type of terrain and track conditions can impact the speed of a 50cc dirt bike. Off-road tracks with uneven surfaces or steep inclines may limit the bike's speed, while flat and well-groomed tracks offer more opportunities to reach higher speeds.
Speed limitations are crucial considerations, especially for younger riders. Safety should always be the top priority when operating a 50cc dirt bike. It's essential to adhere to recommended speed limits and any legal restrictions or regulations set by local authorities.
For young riders, there are specific speed restrictions in place to ensure their safety. These limitations aim to prevent excessive speed that could potentially lead to accidents or injuries. It is essential for parents and guardians to supervise young riders and ensure they are aware of and adhere to these speed restrictions.
Enhancing Speed and Performance
While 50cc dirt bikes offer a decent speed range for beginners and young riders, some enthusiasts may seek ways to enhance their bike's speed and performance. It's important to note that modifying a 50cc dirt bike for higher speeds should be approached with caution, as it can have implications for safety and the bike's overall integrity.
However, certain upgrades and modifications can be made to optimize a 50cc dirt bike's performance within safe limits. Consulting with experienced mechanics or professionals who specialize in dirt bike modifications is recommended to ensure the changes are made correctly and do not compromise safety.
Riding any dirt bike, including a 50cc model, requires adherence to safety precautions. Wearing appropriate safety gear is essential to protect yourself from potential injuries. This includes a helmet, goggles, gloves, long-sleeved shirts, long pants, and boots that cover the ankles.
In addition to safety gear, practicing safe riding techniques and following established guidelines can significantly minimize the risks associated with dirt biking. Riders should be aware of their surroundings, maintain a safe distance from other riders, and avoid riding beyond their skill level.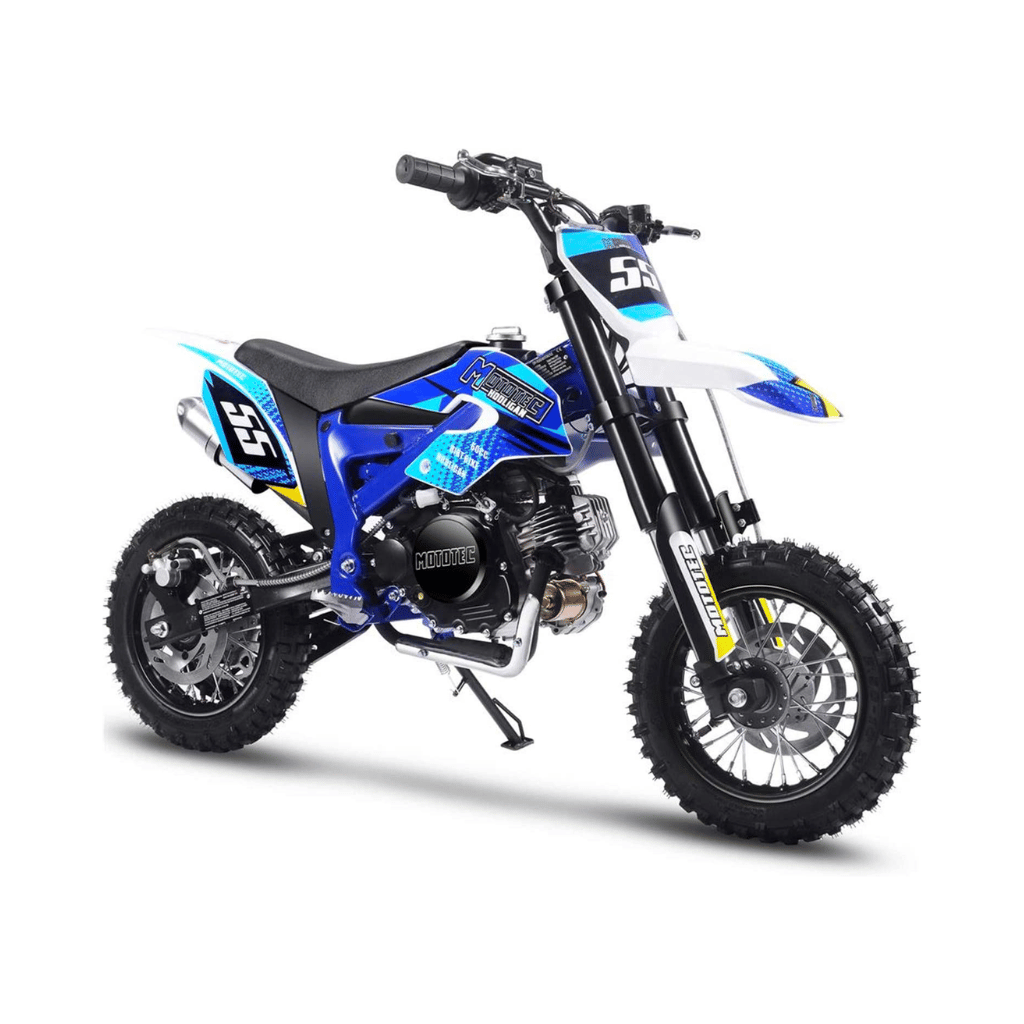 Comparison with Other Dirt Bike Classes
Understanding the differences between various dirt bike classes can provide further context for the speed capabilities of a 50cc dirt bike. While 50cc dirt bikes offer a suitable starting point for beginners, they are not designed to compete with the speeds of larger classes, such as 250cc or 450cc bikes.
These larger classes, with their higher engine displacements, can reach significantly faster speeds. However, it's essential to remember that speed is not the sole determinant of a bike's suitability. Each class caters to different skill levels, terrains, and rider preferences.
Popular 50cc Dirt Bike Models and Their Speed
There are several popular 50cc dirt bike models available in the market, each with its own features and speed capabilities. Let's take a look at a few notable models and their average speeds:
Model A – This 50cc dirt bike model boasts an average speed of around 30 miles per hour (48 kilometers per hour). It offers reliable performance and a sturdy frame, making it suitable for young riders.

Model B – With an average speed of approximately 35 miles per hour (56 kilometers per hour), this 50cc dirt bike model provides a balance of speed and control. It features advanced suspension systems and improved handling for enhanced riding experience.

Model C – Known for its agility and speed, this 50cc dirt bike model can reach speeds of up to 40 miles per hour (64 kilometers per hour). It is designed for riders who seek a bit more power and thrill while maintaining stability.
These are just a few examples, and there are many other models available in the market. When considering a 50cc dirt bike, it's recommended to research specific models and read customer reviews to get a better understanding of their performance and speed capabilities.
Benefits of a 50cc Dirt Bike
Owning a 50cc dirt bike offers numerous benefits, especially for beginners and younger riders. Here are some advantages of choosing a 50cc dirt bike:
User-Friendly: 50cc dirt bikes are often designed with beginner-friendly features, making them easier to handle and control for new riders.
Lightweight and Maneuverable: The compact size and lightweight nature of 50cc dirt bikes allow riders to navigate tight trails and corners with ease.
Affordability: Compared to larger dirt bike classes, 50cc models are generally more affordable, making them a cost-effective option for entry-level riders.
Skill Development: Riding a 50cc dirt bike can help young riders develop essential riding skills, balance, and coordination before moving on to more powerful bikes.
Tips for Choosing a 50cc Dirt Bike
When selecting a 50cc dirt bike, there are a few key factors to consider. These tips can help you make an informed decision based on your specific needs and preferences:
Rider Age and Experience: Consider the rider's age and experience level to ensure the bike's size, power, and speed are suitable for their capabilities.
Build Quality and Durability: Look for a reputable brand known for producing reliable and durable dirt bikes to ensure longevity and minimize maintenance requirements.
Seat Height and Ergonomics: Opt for a bike with a comfortable seat height and ergonomic design, allowing the rider to touch the ground with both feet for stability.
Maintenance and Service: Research the bike's maintenance requirements and availability of service centers or mechanics in your area to ensure proper upkeep and support.
To maintain optimal speed and performance, proper maintenance and care of your 50cc dirt bike are essential. Regular maintenance tasks include:
Oil Changes: Regularly change the engine oil and oil filter as recommended by the manufacturer to keep the engine running smoothly.
Air Filter Cleaning: Clean or replace the air filter regularly to ensure proper airflow and prevent dust and debris from entering the engine.
Tire Pressure and Tread: Check the tire pressure and tread depth regularly for optimal grip and handling.
Chain Lubrication: Lubricate the chain and ensure proper tension for smooth power transfer and longevity.
Brake Inspection: Regularly inspect the brakes, including brake pads and fluid levels, to ensure reliable stopping power.
Following the manufacturer's maintenance schedule and guidelines is crucial to ensure your 50cc dirt bike performs at its best and remains safe to ride.
Riding Techniques for Maximum Speed
While a 50cc dirt bike may not reach the speeds of larger classes, there are techniques riders can employ to maximize their bike's speed and acceleration. Here are a few tips:
Body Positioning: Adopt a balanced and forward-leaning position while riding to optimize weight distribution and aerodynamics.
Throttle Control: Gradually apply and release the throttle to maintain smooth acceleration and avoid wheel spin or loss of control.
Cornering Techniques: Learn proper cornering techniques, such as leaning the bike and shifting your weight, to maintain speed through turns.
Track Awareness: Study the track or trail layout to anticipate obstacles and choose optimal lines, minimizing speed loss.
Suspension Setup: Adjust the suspension settings according to your weight and riding style to ensure maximum traction and control.
Practicing these techniques and gradually improving your skills will help you extract the best performance from your 50cc dirt bike.
Safety Training and Skill Development
To ride a 50cc dirt bike safely and responsibly, acquiring proper safety training and developing riding skills are crucial. Consider the following options for training and skill development:
Riding Schools: Enroll in dirt bike riding schools or training programs specifically tailored to off-road riding. These schools provide comprehensive instruction on bike control, safety practices, and advanced riding techniques.
Certification Courses: Seek out certification courses offered by recognized organizations that focus on off-road riding safety. These courses often cover essential topics such as proper gear, riding etiquette, and emergency procedures.
Local Riding Clubs: Join local dirt biking clubs or communities where you can learn from experienced riders and participate in organized rides. These clubs often provide mentorship opportunities and a supportive network.
Remember, safety should always be a priority, and continuous skill development can enhance your riding experience while minimizing risks.
Understanding the speed capabilities of a 50cc dirt bike is essential for riders of all levels. While the average speed ranges from 25 to 40 miles per hour (40 to 64 kilometers per hour), it can vary based on factors such as bike weight, rider weight, and terrain conditions. It's important to adhere to speed limitations and prioritize safety when riding a 50cc dirt bike, especially for young riders. Regular maintenance, proper gear, and skill development contribute to a safe and enjoyable riding experience.
Can a 50cc dirt bike be used by adults?

Yes, 50cc dirt bikes can be used by adults; however, it's important to consider the bike's size, weight capacity, and comfort for adult riders.

Are 50cc dirt bikes suitable for off-road riding?

Yes, 50cc dirt bikes are designed for off-road riding and can handle various terrains such as dirt tracks, trails, and motocross courses.

Is it possible to modify a 50cc dirt bike for higher speeds?

While certain modifications can enhance a 50cc dirt bike's speed, it is crucial to prioritize safety and consult with professionals to ensure modifications are done correctly and within safe limits.

What safety gear is recommended when riding a 50cc dirt bike?

Essential safety gear includes a helmet, goggles, gloves, long-sleeved shirts, long pants, and boots that cover the ankles. Additional gear such as knee and elbow pads can provide extra protection.