Although scooters have been around for over a century, the original models were vastly different from today's modern versions. However, in the early 2000s, suburban kids in the United States began performing tricks on their lightweight Razor scooters. They soon discovered that these scooters were not built to withstand the punishment of their new aggressive riding styles.
One major flaw of the Razor A scooter was its folding mechanism, which would activate and collapse when riders landed hard on the scooter after a difficult trick. To solve this problem, riders began bolting the mechanism open to add strength to the scooter's neck. This type of modification sparked structural innovation and paved the way for the professional scooter industry we see today.
Manufacturing processes such as welding, forging, and extruding have become crucial in creating high-quality scooters. Product testing is also a vital component, with riders providing feedback on how to improve designs. Professional riders use scooters that are tailored to their specific needs and objectives, featuring shorter decks and lower handlebars for optimal trick performance.
As a result of these advancements, the market for pro scooters has expanded and there are now numerous brands and models available. In the following section, we will highlight some of the most popular pro scooters on the market.
Fuzion Z300 Complete Pro scooter
The Z300 is widely regarded as the entry-level pro scooter equivalent of a Swiss army knife – versatile and dependable. It's an excellent option for both novice and intermediate riders due to its impressive features.
This scooter is particularly well-suited for teens, who make up a significant portion of the pro riding community. Its deck size is 4.5 inches wide and 19.5 inches long, with a reinforced neck for added strength. Additionally, the deck is flush to the front, making it easier to perform coping tricks at the skatepark.
The Z300 boasts Chromoly steel handlebars that are 22 inches wide and 23 inches tall, making it a tall scooter to ride. However, pro riders seem to favor it. The modernized double clamp securely holds everything together, along with custom metal core wheels, comfortable hand grips, and other high-quality components.
In addition to functionality, pro scooters also need to look good to appeal to their target audience. The Z300 excels in this aspect, with meticulous attention to detail evident in its design. Overall, it's an excellent choice for those new to the sport or seasoned riders in need of quality parts.
Fuzion Z250 Complete Pro scooter
The reason why the second scooter on this list is also a Fuzion is that they have established themselves remarkably well in the entry-level to intermediate market. With the sport gaining popularity every day, an increasing number of individuals are getting into it and searching for a good and secure scooter to ride.
The Z250, along with its superior counterpart mentioned above, falls into the category of safe scooters that target suburban parents looking to please their kids. Both models' colors and themes aren't divisive enough to appeal to a particular customer group, yet they look appealing enough for novice pro riders.
Despite the similarities, there are a few notable differences between the two models. The Z250 has a smaller deck, measuring approximately 4.25 inches in width and 19.5 inches in length. Moreover, the handlebars are quite distinct from those of the other model, lacking support beneath the crossbar.
Nevertheless, components like the metal core wheels and grips remain intact, ranking high among the industry's elite entry-level scooters.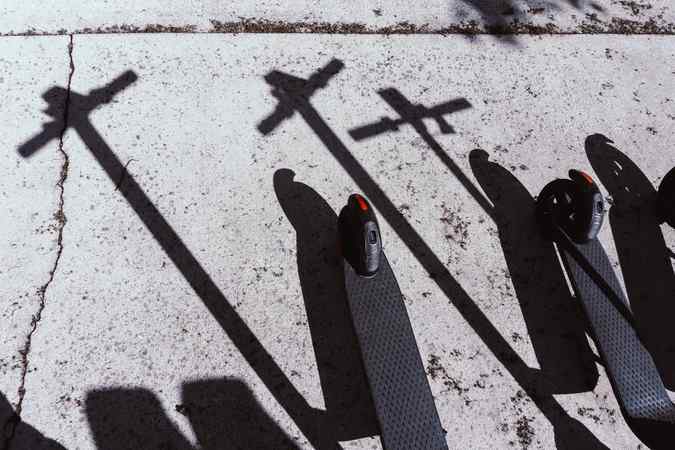 Although most of the buzz surrounding this Lucky scooter is due to it being the preferred choice of Lucky's top pro rider, Tanner Fox, it still stands out as a great scooter. With its personalized TFox graphics and hollow core wheels, it's a popular choice among teenagers who are interested in sleek design.
Apart from the branding, this pro scooter is built with impressive features, including a deck size of 4.25 by 19.5 inches, Chromoly steel handlebars, and a double clamp. If your children are fans of Tanner Fox and already into scooters, this would make an excellent gift that they will surely appreciate. However, if the branding isn't a factor, it's important to note that it can add up to the cost.
Envy Series 5 & 6 Prodigy
Envy is currently dominating the pro scooter industry by attracting top riders to represent their brand. While most companies focus on delivering quality products at affordable prices, Envy stands out by focusing on stunning artwork for their complete scooters and parts. This has allowed them to gain an edge in the market.
The Envy Prodigy complete scooter is available in a range of attractive color options and finishes, with Candy, Splatter, or Oil Slick colorways coating or dipping the decks. The newly swirled grips and front and rear deck inserts add to the fine improvements that Envy offers. The nylon flex brake included with the scooter also ensures minimal noise and rattles.
Overall, the Envy Prodigy is the ultimate complete scooter option, making it an ideal gift that will undoubtedly bring joy and gratitude to its lucky new owner.
Lucky Covenant Pro Scooter
Lucky's Covenant scooter is their flagship model specifically designed for park riding, with the ability to withstand extreme punishment and harsh conditions. This complete scooter is constructed from the best scooter parts Lucky has to offer, making it an ideal choice for riders who perform tricks like flair combos over mega ramps.
Despite its longer deck, which is unusual for pro riders, the width of 4.45 inches is just right. The oversized handlebars, measuring 24 inches in height and 23 inches in width, can be an advantage or disadvantage depending on the rider's preferences.
To cater to the market's needs, Lucky has made the Covenant's graphics a focal point of its development. They enlisted the help of a renowned Japanese artist named Shogo Ota to create the theme and premise, which are displayed on the scooter. To appeal to a wider audience, this scooter is available in seven different colorways.