The price of Vespas can vary depending on the model, location, and any additional features or customization options. However, I can provide you with a general price range.
Vespa scooters are known for their stylish design and quality craftsmanship, which often contributes to their higher price compared to other scooters in the market. On average, a new Vespa scooter can range from around $3,000 to $10,000.
The specific model you choose, such as the Vespa Primavera, Vespa GTS, or Vespa PX, will have an impact on the price. Additionally, any upgrades or accessories you select, such as a top case, windscreen, or custom paint job, can also affect the overall cost.
It's important to note that prices can vary across different regions and countries due to factors like taxes, import duties, and local market conditions. To get the most accurate and up-to-date pricing information, I recommend visiting the official Vespa website or contacting a local Vespa dealership in your area.
| Model | Price Range (USD) |
| --- | --- |
| Vespa Primavera | $3,500 – $5,500 |
| Vespa GTS Super | $6,000 – $8,500 |
| Vespa Sprint | $4,000 – $6,000 |
| Vespa LX | $2,500 – $4,000 |
| Vespa Elettrica | $7,000 – $9,000 |
| Vespa 946 | $8,000 – $10,000 |
| Vespa GTS Touring | $6,500 – $8,000 |
| Vespa Sei Giorni | $7,500 – $9,500 |
| Vespa 300 HPE | $5,500 – $7,500 |
| Vespa GTS SuperSport | $7,000 – $9,000 |
| Vespa GTS Racing | $8,500 – $10,000 |
| Vespa Primavera Touring | $4,500 – $6,500 |
| Vespa GTS Notte | $6,000 – $8,000 |
| Vespa 946 RED | $8,500 – $10,000 |
| Vespa GTS SuperTech | $7,500 – $9,500 |
Please note that these price ranges are approximate and can vary depending on various factors such as location, dealership, optional features, and current market conditions. It's always recommended to check with authorized dealerships or sellers for the most accurate and up-to-date pricing information.
Factors Influencing Vespa Prices
Brand and Model: Vespas come in various models, each catering to different preferences and riding styles. The brand and model you choose will have a direct impact on the price. Newer models or limited editions often come with a higher price tag due to their exclusivity.

Engine Size: Vespas are available with different engine sizes, typically ranging from 50cc to 300cc. Generally, higher engine displacements are associated with higher prices, as they offer enhanced performance and power.

Age and Condition: Just like any vehicle, the age and condition of a Vespa affect its price. Newer Vespas in pristine condition command higher prices, while older models or those with visible wear and tear may be more affordable.

Accessories and Customizations: Additional accessories and customizations can elevate the price of a Vespa. Features like chrome accents, custom paint jobs, or upgraded seats not only enhance the aesthetic appeal but also add value to the scooter.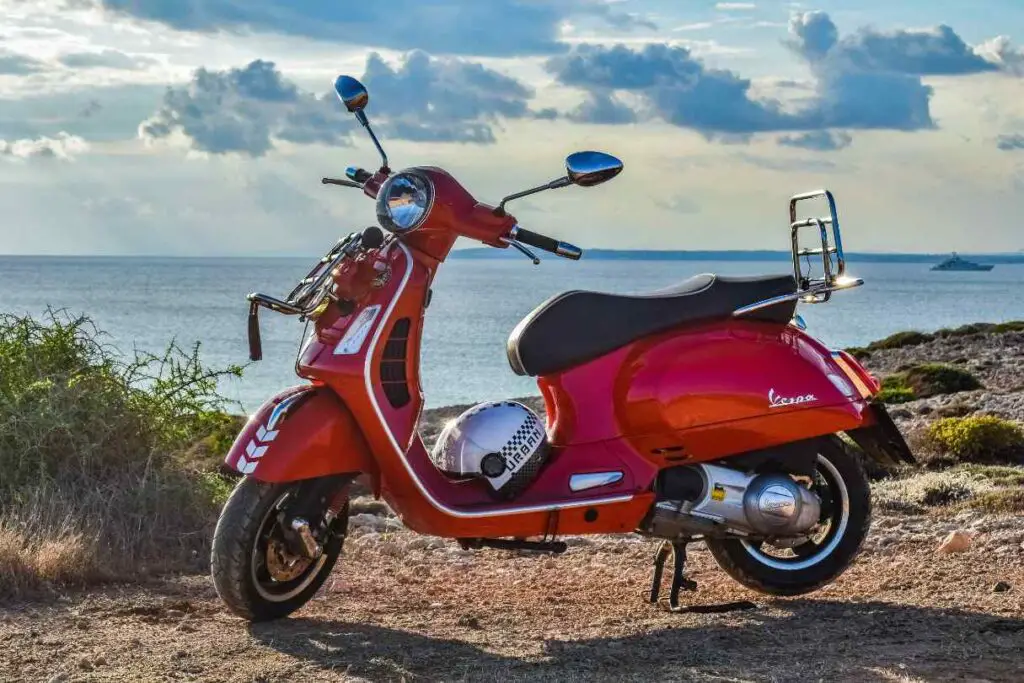 Understanding the Range of Vespa Prices
Vespas are available in different price ranges to cater to a wide range of budgets and preferences. Let's explore the three main categories:
Entry-Level Vespas: These are typically the most affordable options for those new to the world of Vespas. They offer reliable performance and stylish design at a budget-friendly price point.

Mid-Range Vespas: The mid-range category strikes a balance between affordability and advanced features. These Vespas often come with additional accessories and improved performance capabilities.

High-End Vespas: The high-end Vespas are the epitome of luxury and exclusivity. They boast premium features, exquisite craftsmanship, and powerful engines, making them a dream for enthusiasts who seek the ultimate Vespa experience. These high-end models come with a higher price tag but offer unparalleled style, performance, and prestige.
When it comes to purchasing a Vespa, you have several options to consider:
Authorized Dealerships: Official Vespa dealerships offer brand-new models with warranty coverage. They provide peace of mind and the opportunity to customize your Vespa according to your preferences.

Pre-owned Market: Buying a used Vespa can be an excellent way to find a more affordable option. You can check local classifieds, visit scooter dealerships specializing in pre-owned vehicles, or explore online marketplaces for used Vespas in your area.

Online Platforms: Online platforms such as dedicated scooter marketplaces or auction websites offer a wide selection of new and used Vespas. It's crucial to research the seller's reputation and thoroughly inspect the scooter before making a purchase.
Tips for Negotiating Vespa Prices
Negotiating the price of a Vespa can help you secure a better deal. Here are some tips to keep in mind:
Research and Comparison: Before entering negotiations, research the average prices for the Vespa model you're interested in. Compare prices from different sellers to gain leverage in negotiations.

Timing: Consider the timing of your purchase. Dealerships may offer discounts or promotions during certain times of the year. Additionally, sellers may be more willing to negotiate if they've had the Vespa listed for a while.

Condition Assessment: Thoroughly inspect the Vespa for any signs of damage or mechanical issues. Use any flaws you find as leverage to negotiate a lower price or request repairs before finalizing the purchase.

Flexibility: Be open to compromises and show flexibility during negotiations. Sometimes a seller may not be willing to lower the price but could include additional accessories or services to sweeten the deal.
The price of Vespas can vary based on several factors, including brand, model, engine size, age, condition, and customizations. Understanding these factors and the range of prices available can help you make an informed decision when purchasing a Vespa. Additionally, considering the resale value and maintenance of your scooter can ensure its long-term value and enjoyment.
So, whether you're a Vespa enthusiast or someone looking to embark on a stylish and efficient mode of transportation, exploring the world of Vespas can be an exciting journey. Find the perfect Vespa that suits your style, budget, and riding preferences, and enjoy the freedom and elegance that comes with owning this iconic scooter.
Are Vespas expensive to maintain? 
While maintenance costs can vary, regular servicing and genuine parts can help keep maintenance expenses reasonable.
Can I customize my Vespa?
Yes, Vespas offer various customization options, allowing you to personalize your scooter according to your preferences.
Do Vespas have good resale value?
Vespas generally hold their value well, especially popular models and limited editions, with proper maintenance and care.
What is the average lifespan of a Vespa?
With proper maintenance, Vespas can last for several decades, offering reliable performance and enjoyment.
Can I finance a Vespa purchase?
Yes, many dealerships offer financing options to make owning a Vespa more accessible.