Hey there! Some links on this page are affiliate links which means that, if you choose to make a purchase, I may earn a small commission at no extra cost to you. I greatly appreciate your support!
If you're in the market for a new moped, taking it for a test ride is essential. It's the best way to get a feel for the handling, performance, and comfort of the machine. But, how do you make the most of your moped test ride and ensure you choose the right one for you?
First, research the models you're interested in. Check out moped ride reviews online, or visit your local dealership to get a closer look. Once you've narrowed down your options, it's time to schedule your test rides. But, what should you look for during your test ride?
Start with the basics. Check the handling and stability of the moped. Does it feel safe and easy to maneuver? Next, pay attention to the engine performance. Is it smooth and responsive? How does it handle hills and curves?
Finally, consider the comfort features. Are the seat and handlebars adjustable? Is there enough legroom? Is the ride smooth, or do you feel every bump?
By keeping these factors in mind, including its cost you'll be able to choose the perfect moped that suits your needs. And remember, taking your time and testing out multiple models is key to making an informed decision.
Key Takeaways:
Research the models you're interested in before your test ride.
Check the handling, engine performance, and comfort features during your test ride.
Take your time and test out multiple models before making a decision.
Always prioritize safety during your test ride.
Scooter Test Rides: Finding Your Perfect Ride
When it comes to choosing the perfect scooter, a test ride is a must. It's the best way to get a feel for the scooter's performance, handling, and comfort. But with so many options on the market, it can be overwhelming to know where to start. That's why I've put together a comprehensive guide to help you find the best scooters for test rides and make the most of your moped test ride experiences.
Best Scooters for Test Rides
The first step in finding your perfect ride is choosing the right scooter to test ride. Here are some of the best models to consider:
| Scooter Model | Features | Performance |
| --- | --- | --- |
| Honda PCX150 | LED lights, spacious storage, comfortable seat | Top speed of 70 mph, fuel-efficient |
| Vespa Sprint 150 | Iconic design, advanced safety features, easy to maneuver | Top speed of 59 mph, smooth ride |
| Yamaha SMAX | Powerful engine, sleek design, digital display | Top speed of 80 mph, excellent acceleration |
These scooters offer a great balance of features and performance, making them ideal for test rides. But what should you look for when taking them for a spin?
Moped Test Ride Experiences
During your test ride, pay close attention to the scooter's handling and performance. Here are some key factors to consider, including its cost:
Acceleration: How quickly does the scooter pick up speed? Is it smooth or jerky?
Braking: How responsive are the brakes? Do they feel secure and reliable?
Maneuverability: Is the scooter easy to handle in tight spaces? Can you make sharp turns smoothly?
Comfort: How does the scooter feel to ride? Is the seat comfortable? Is the ride smooth?
Features: Do the scooter's features, such as lights and turn signals, work well?
By keeping these factors in mind, you'll be able to make an informed decision and find the perfect scooter for your needs. So what are you waiting for? Book a test ride today and discover the joys of cruising on a scooter.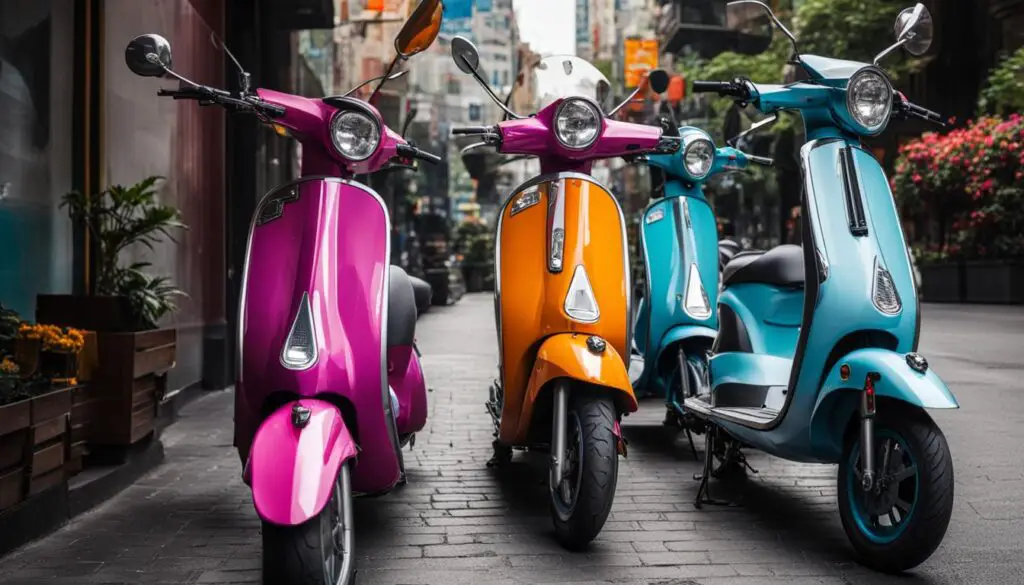 Conclusion
In summary, taking a moped for a test ride is an essential step in the scooter-buying process. By following the tips and utilizing the comprehensive moped test ride checklist, I can be well-prepared to make a confident decision. I won't rush the process and take my time to enjoy the thrill of test-riding different mopeds.
Taking Safety into Account
During my test rides, I will keep safety a top priority. This means wearing a helmet and other protective gear, as well as following all traffic laws. I will also consider the moped's safety features, such as its braking system, lights, and mirrors. By taking safety into account, I can ensure a fun and secure test ride experience.
Happy Test Riding!
Finally, I'm excited to hit the road and test-ride different scooters. With my newfound knowledge, I'm confident that I will find the perfect moped for my needs. Thank you for reading and good luck with your own test rides. Happy test riding!
FAQ
What should I look for when test-riding a moped?
When test-riding a moped, it's important to pay attention to factors such as comfort, handling, acceleration, and braking. Make sure the moped feels stable and easy to control. Check if the seat is comfortable and if the riding position suits you. Test the acceleration and braking responsiveness to ensure they meet your expectations.
Are there any specific models that are recommended for test rides?
While the best moped for a test ride may vary depending on your preferences, some popular models that are often recommended include the Honda PCX, Vespa Primavera, and Yamaha NMAX. These models are known for their reliability, performance, and overall ride quality.
How can I make the most of my moped test ride?
To make the most of your moped test ride, prepare a list of specific questions or concerns you have about the moped you're considering. Take your time during the test ride, and don't hesitate to ask the dealer or salesperson any questions that come to mind. Pay attention to how the moped performs in various conditions, such as on highways or in urban traffic.
What should I include in my scooter test ride checklist?
Your scooter test ride checklist should include items such as checking the lights and indicators, testing the brakes, assessing the suspension, and evaluating the engine performance. It's also important to check the overall build quality and ensure that all the controls are in good working condition.
Is it necessary to have a valid driver's license to test ride a moped?
Yes, it is necessary to have a valid driver's license to test ride a moped. This requirement ensures that only individuals with the appropriate skills and knowledge are operating the vehicles during test rides. Additionally, having a license allows you to thoroughly experience the moped's performance and make a more informed purchasing decision.
Can I test-ride multiple mopeds before making a decision?
Yes, it is highly recommended to test-ride multiple mopeds before making a decision. By test riding different models, you can compare their performance, comfort, and overall suitability for your needs. This will help you make a more informed choice and ensure that you find the perfect moped that suits your preferences.