While it may appear straightforward to find suitable scooters for toddlers, the vast array of products available for purchase can make the process challenging. To make your shopping experience easier and assist you in making an informed decision, we have gathered a collection of reviews for toddler scooters based on their specifications and buyer feedback.
1.Lascoota 2 in 1 Kick Scooter for Kids with Removable Seat
Consider the Lascoota model if you are looking for a three-wheel toddler scooter. Its self-balancing design and three wheels ensure safe and effortless rides for your child. The scooter promises quiet operation and enhanced durability.
This model features a removable and adjustable seat, allowing your toddler to use it as a ride-along or in scoot action mode. The seat can be removed entirely or adjusted in height.
For a customized experience, the handlebar offers four height options, making it suitable for your child as they grow. This scooter is suitable for kids aged 2-8 and can hold up to 110 lbs. The front tires are large enough to provide a smooth ride even on rough terrain. The lean-to-steer technology helps your little one develop coordination and balance skills.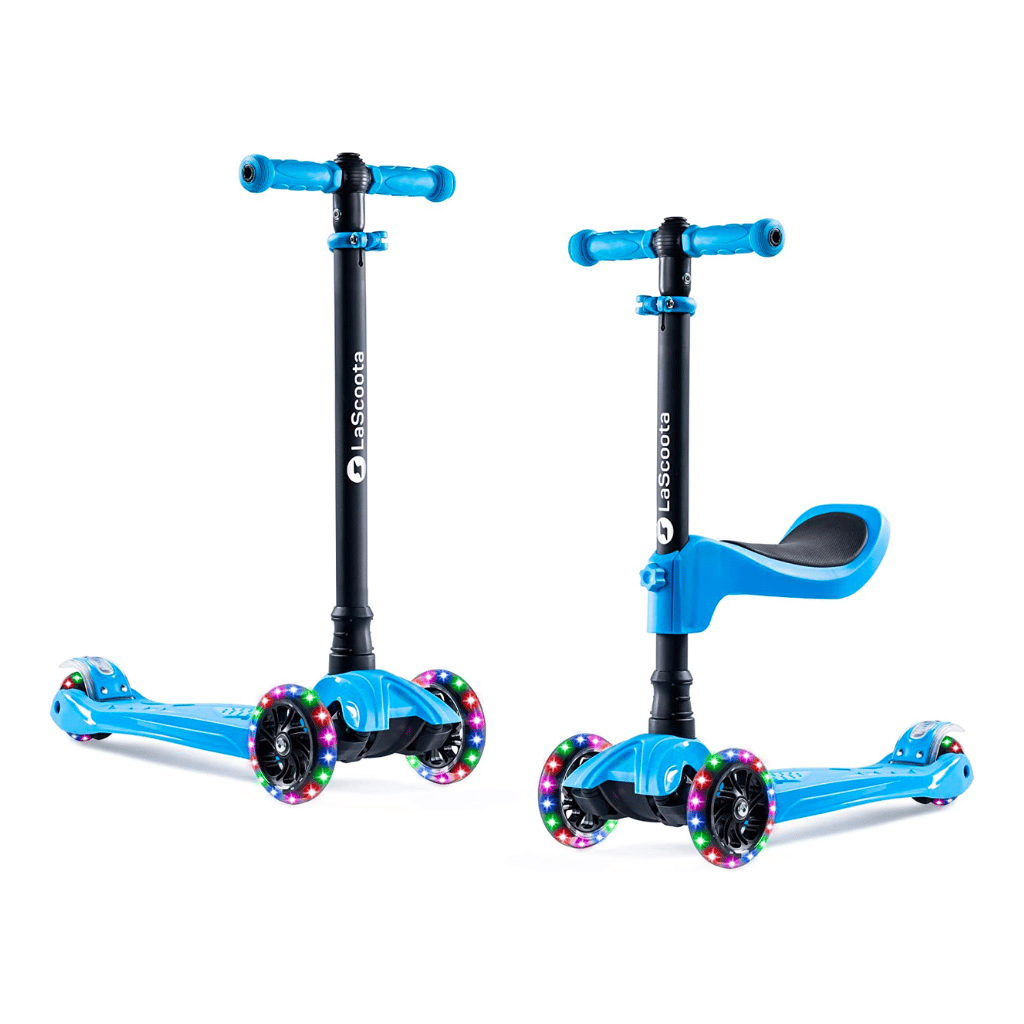 2. Micro Mini Scooter Childrens scooter with T bar
When selecting a mini scooter for your child, safety should be a top priority. This model is designed with ease of use and safety in mind, featuring a three-wheel and lean-to-steer design for enhanced stability.
Suitable for preschoolers and kindergarteners, aged 2-5, this scooter will help children develop balance and coordination skills as they use their body weight to lean left and right. The low-to-the-ground fiberglass-reinforced deck and high-quality wheels absorb bumps on uneven surfaces and provide a quiet ride.
With a weight capacity of 44 lbs, this scooter is ideal for younger children. It also has non-marking wheels, allowing your child to practice indoors before heading outside. This product has received multiple awards and positive feedback.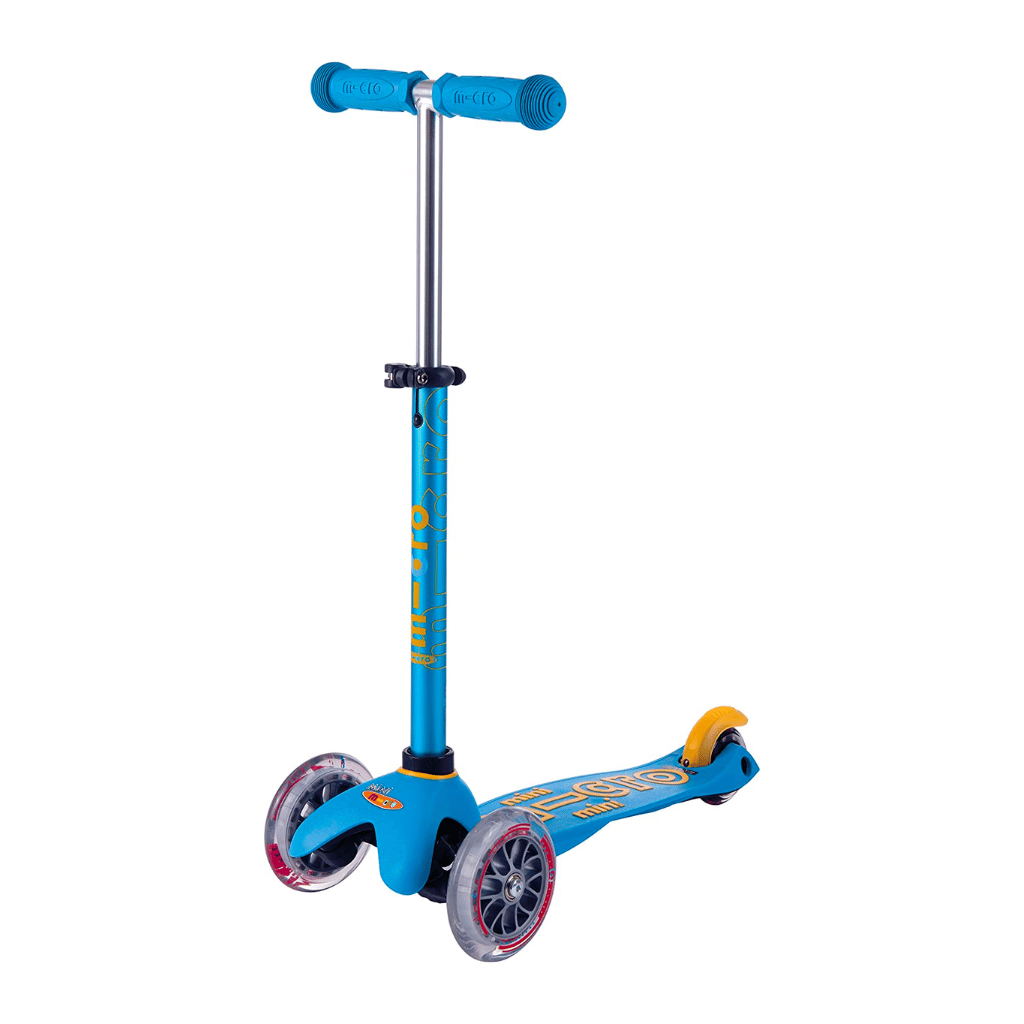 3. Razor Jr. Folding Kiddie Kick Scooter
This Razor scooter offers your child durability, safety, ease of use, and a compact design. Safety is a top priority with its three-wheel design, providing enhanced stability that new riders will appreciate.
Constructed with aluminum, steel, and plastic parts, this scooter can withstand extended use. The urethane wheels provide a smooth ride, and the wide, slip-resistant polypropylene deck comfortably accommodates both feet. This product stands out for its easy foldability, allowing for convenient storage and transportation.
Assembling the scooter is straightforward and requires minimal time and effort. Available in pink and blue, this scooter is suitable for both toddler girls and boys aged 3 and up.
Created with inexperienced riders in mind, this scooter boasts a user-friendly three-wheel design that allows your child to explore and develop new skills with ease and comfort. The large front wheels provide stability, while the ABEC 5 bearings and high-rebound PU material ensure a smooth ride and long-lasting durability.
As balance can be a challenge for first-time scooter riders, this model includes a steering lock mechanism that keeps the scooter moving in a straight line. When your child is ready to steer, simply unlock this mechanism.
The handlebar is adjustable from 26.5 to 31 inches, making it suitable for children aged 2 to 6. With a weight capacity of 110 lbs and a steel plate reinforced deck, this scooter provides increased support, stability, and durability.
Voyage Sports Kick Scooter
If you're looking for a safe and enjoyable way to entertain your little one, this toddler scooter bike is tailored for kids aged 3 to 5. Its three-wheeled design ensures balance while riding, keeping your child safe.
The T-handlebar height is adjustable to ensure a comfortable ride and to accommodate your growing child. The low-ground-design deck provides additional balance. The scooter is built with high-quality stainless steel and polypropylene plastic, ensuring durability over extended periods of use.
For added visibility during night-time rides, the scooter features light-up wheels. It has a maximum weight capacity of 80 lbs, making it a great gift for toddlers up to age 5. The lightweight design makes it easy to transport.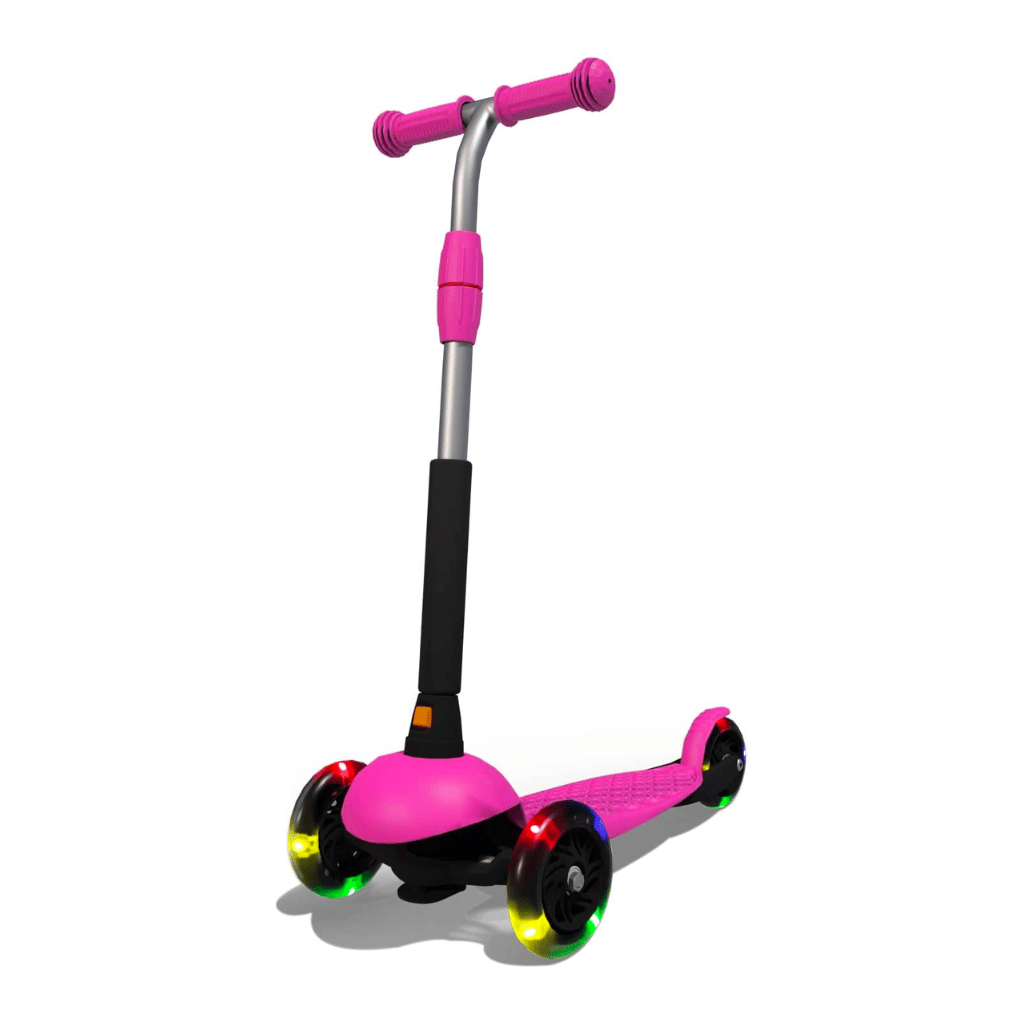 A toddler scooter can be a fun and healthy way to help your child develop balance, coordination, and confidence. When choosing the best toddler scooter for your child, consider factors such as age, weight limit, stability, and adjustability. The 10 scooters listed above are great options that offer a range of features and benefits for young riders.
It's important to remember to always supervise your child while they are riding their scooter, and to make sure they wear a properly fitting helmet and other safety gear. With the right scooter and safety precautions in place, your child can enjoy the thrill of scooting while building valuable skills.